To help realize a sustainable society, Sysmex focuses on environmental management in our entire Group. A major theme in this is designing environmentally friendly reagents. The challenge is to reduce environmental burdens from the upstream stages of design and development in product life cycles, and planning for specific situations such as the use and disposal of products. We trace the history of the challenge to deliver reagents that are both people and environmentally friendly, and hear the thoughts of person in charge of reagent development on his designs.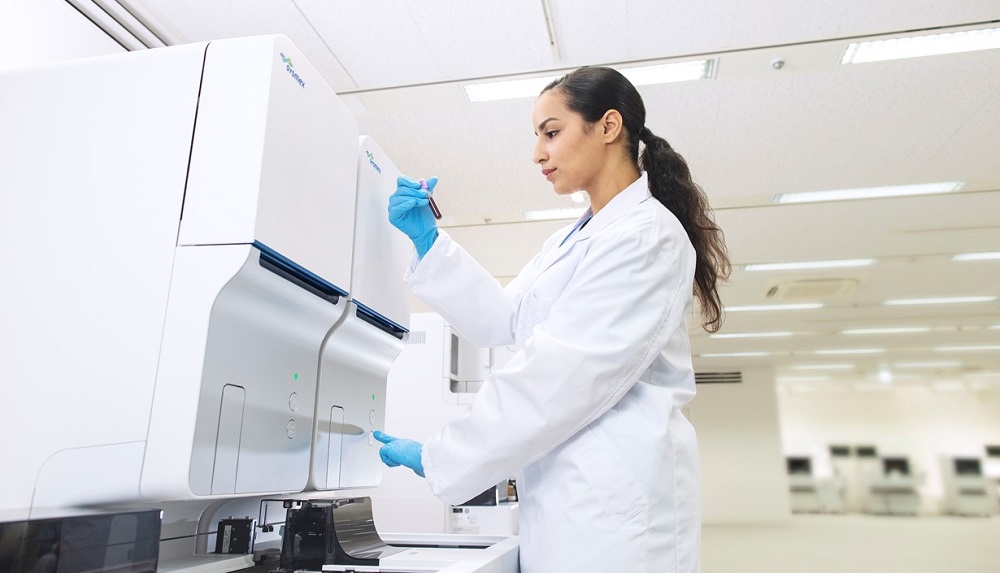 Reagents Essential to In Vitro Diagnostics
The testing of blood and urine samples using reagents plays an important role in the diagnosis of diseases and their treatment; so, what are reagents?
"Reagents are the essential of
in vitro
diagnostics. For instance, blood consists of various types of cells including red blood cells, white blood cells, and platelets. Through reactions with them, reagents allow precise measurement by analysis instruments. Including those specifically for the internal cleaning of instruments, reagents perform a wide variety of roles in
in vitro
diagnostics at hospitals, clinics and clinical laboratories."
This is how they are explained by Yusuke Mori, who was involved in the development of reagents for hematology analyzers for around 20 years and is currently responsible for manufacturing technology. He says that since a very large quantity of reagents is used on a daily basis, consideration of the environment is essential, and its importance has been increasing in recent years.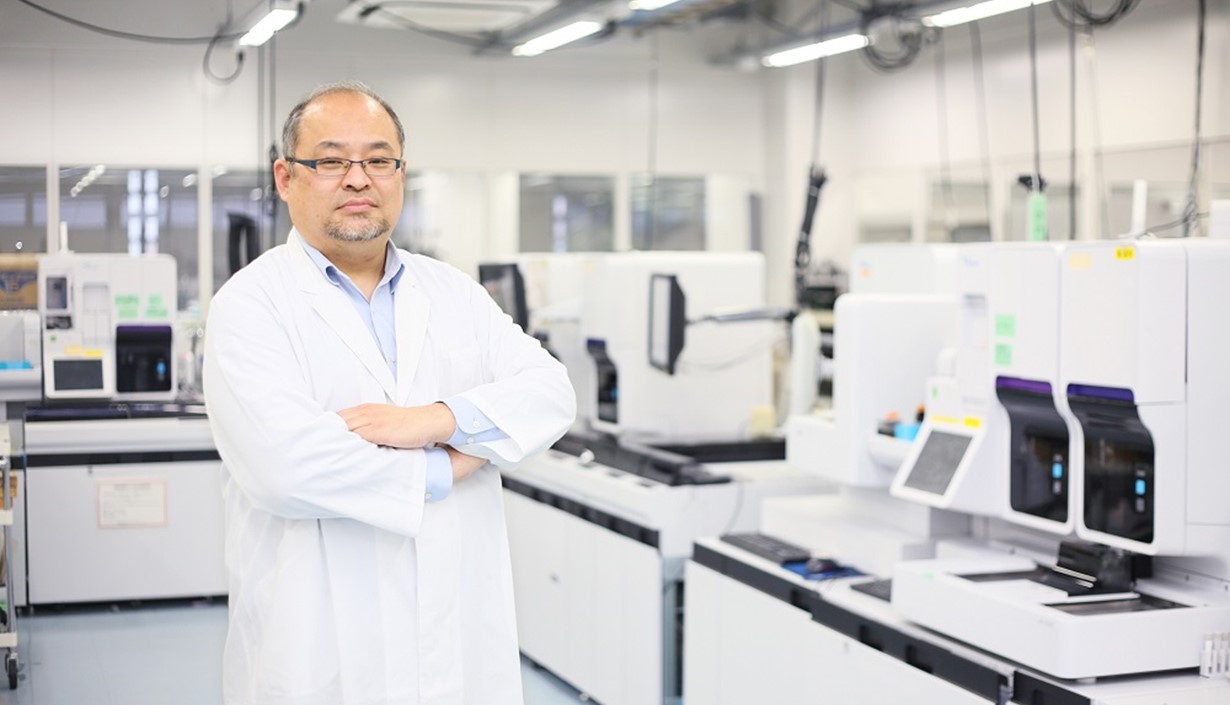 "With growing environmental awareness worldwide, regulations on the use of poisonous and deleterious substances used in raw materials for reagents are becoming stricter. This is particularly true in Europe, making it difficult to supply products unless they fully comply with the regulations of individual countries. The onus on companies is to keep abreast of environmental regulations and respond to changes in them as soon as possible. Sysmex does not just comply with regulations; we are also proactive in designing, developing and supplying reagents that are environmentally friendly."
History of Meeting the Challenge of Environmentally Friendly Reagents
Concentrated reagents are a representative example of Sysmex's efforts in the design and development of environmentally friendly reagents. Developed for the first time in 1995, they resulted from customer feedback.
"Clinical laboratories in Japan conduct a large volume of tests, processing as many as 30,000 samples each day. The larger the number of samples, the more frequently reagents have to be changed. During changes no samples can be measured and the lost time had been a problem. Another major issue raised was that since the work of testing took so much time, there was insufficient time for other tasks. In response, Sysmex developed and launched the first concentrated reagents for use in hematology, where the numbers and types of red blood cells, white blood cells and other cells are measured."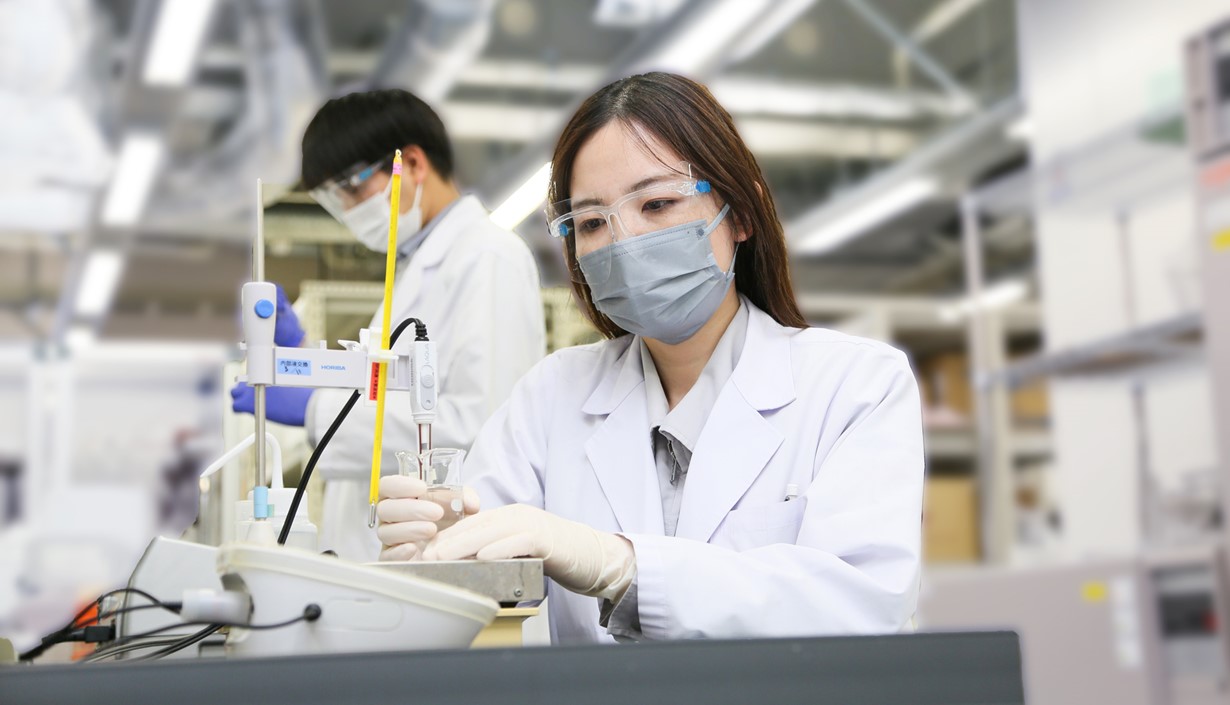 Concentrated reagents are made by concentrating conventional reagents, which are diluted by the customer with pure water before testing samples. By delivering concentrated reagents and reagent adjustment units together to the customer, we have contributed to solving various problems at the site of testing.
"The use of concentrated reagents dramatically reduces the frequency of reagent changes. It has also made products smaller in size and lighter, which has led to solving problems in daily operations by reducing the space taken up by products as well as the burden of physically handling reagent containers. Concentrated reagents also have many benefits for the environment; they have contributed to reducing the disposal volume of containers and packaging materials and decreasing CO
2
emissions arising from transportation."
Hurdles Overcome Through "Trinity" in Development
Following the introduction of the first concentrated hematology reagents in 1995, market development started not only in Japan but also in Europe, the US and other countries from around 2000 onwards. In 2011, to coincide with the launch of new instruments for hematology, Sysmex began providing products as a set consisting of specific concentrated reagents as well as a pure water generating device and a more compact adjustment unit for reagent dilution.
The difficulty in the development of these new products was establishing the technology for the precise dilution of concentrated reagents using a small adjustment unit. Precise dilution is vital for the proper use of concentrated reagents. If reagents are 25-fold concentrated, they must be diluted exactly 25 times or test results will be inaccurate, possibly leading to an incorrect diagnosis. This hurdle in development was overcome by forming a "trinity" consisting of the persons in charge of developing reagents, instruments and software.
"Concentrated reagents and the devices for diluting them are supplied as a set. Creating reagents that will produce accurate results when used by the customer is very important; so, as the person in charge of reagent design, I conducted many experiments and had several discussions with mechanical engineers and software engineers. As a result, we were able to develop a dilution method and a process for checking whether the dilution was accurately performed.
I feel that a strength of Sysmex is teamwork through which issues in developing products are resolved through the pooled expertise of the persons in charge of developing reagents, instruments and software.
For the development of these products, every half year the respective persons got together for two days of intensive discussion, shutting out all outside communication. Candidly sharing opinions and perspectives, we agreed on the result that we should aim for and aligned our sights on it."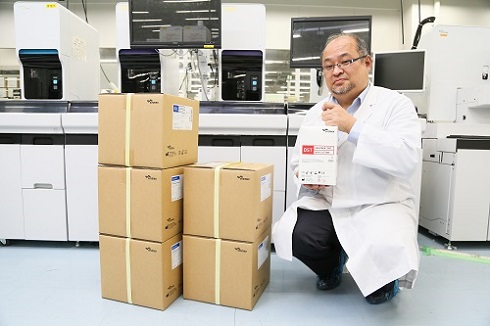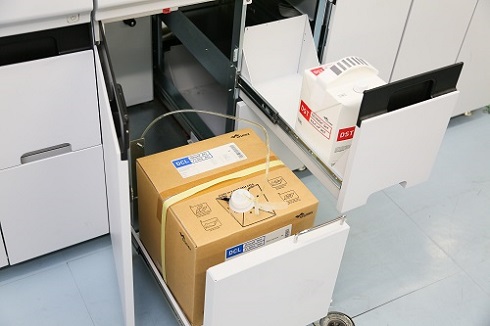 Obvious difference between conventional reagent (left) and concentrated reagent (right)


Mori says they developed the reagents with great care as if they were their children. In addition, the thoughts of the persons developing them were strongly reflected in the product name.

"The concentrated reagents were given the name 'CELLPACK DST.' This was decided through discussion between myself and the other persons involved in their development. D means 'Dilute' and ST 'Standard.' The latter shows our desire for concentrated reagents to be the standard for environmental friendliness, and this desire remains unchanged to this day. Incidentally, during the heated discussions to decide on the product name, it was like we were fretting over the name of our own child. Nurturing it with such great care, I feel that we created a product that can be delivered to customers with confidence."
Wanting to Do Our Best for People and the Environment
The design of an environmentally friendly product that began with customer feedback resulted in reducing waste and decreasing CO
2
emissions arising from transportation. Sysmex has accelerated such initiatives to reduce environmental burdens.
"We are studying ways of expanding the knowledge gained through the development of concentrated reagents for hematology to other areas in the future. We are also engaged in various other environment-related endeavors. These include reducing procurement risks through replacement of environmentally restricted substances such as poisonous, environmentally hazardous ones with alternatives, reagent designs that extend expiration periods, and reducing reagent wastage due to reagent deterioration caused by dissolved carbon dioxide gas during storage. Our driving force is the desire to deliver products that are easier for customers to use. Other desires are to allow patients and ordinary people to live healthy lives, and to help achieve sustainable development for our world. We aim to do our best for people and the environment through the creation of environmentally friendly products."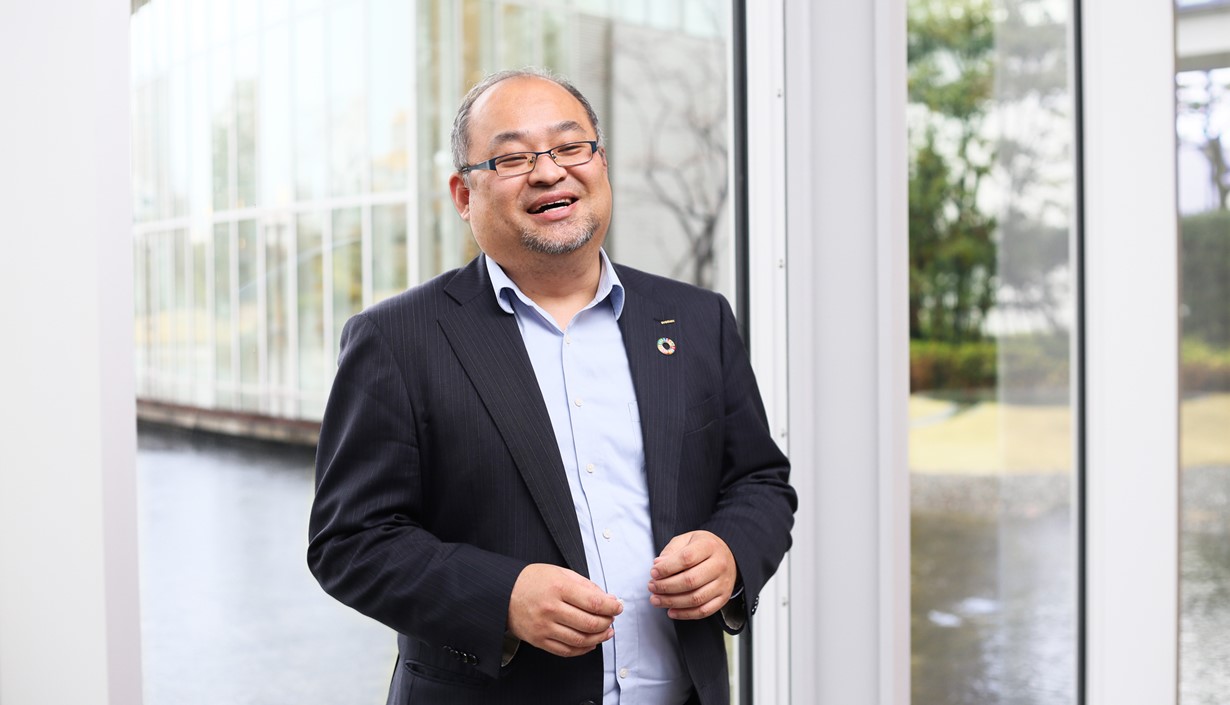 Sysmex aims to contribute to realizing an environmentally sustainable society through environmentally friendly reagent designs as well as a wide variety of other initiatives.