Adaptation to and mitigation of climate change and conservation of water resources and biodiversity—Environmental problems pose one of the most urgent challenges facing the world today. In response to the growing call for businesses to play a greater role in this regard, we set forth to "Formulate a vision and roll out measures to reinforce and implement sustainability management " as one of the key actions in the Group's Mid-Term Management Plan ending in March 2024, thus promoting Group-wide initiatives to reduce environmental burdens.
Let's hear what Takashi Ono, our Environmental Management Officer, has to say about what Sysmex is doing to promote environmental conservation.
"We often hear people talk about 'environmental problems', but I personally believe that this is not so much a 'problem' as an 'opportunity' for us to enhance our existential value and technological advantages. Having said that, we are keenly aware that no matter how hard a single company tries, there's not much we can do for the global environment alone. As such, countries and businesses around the world must align themselves with each other in tackling this imperative cause."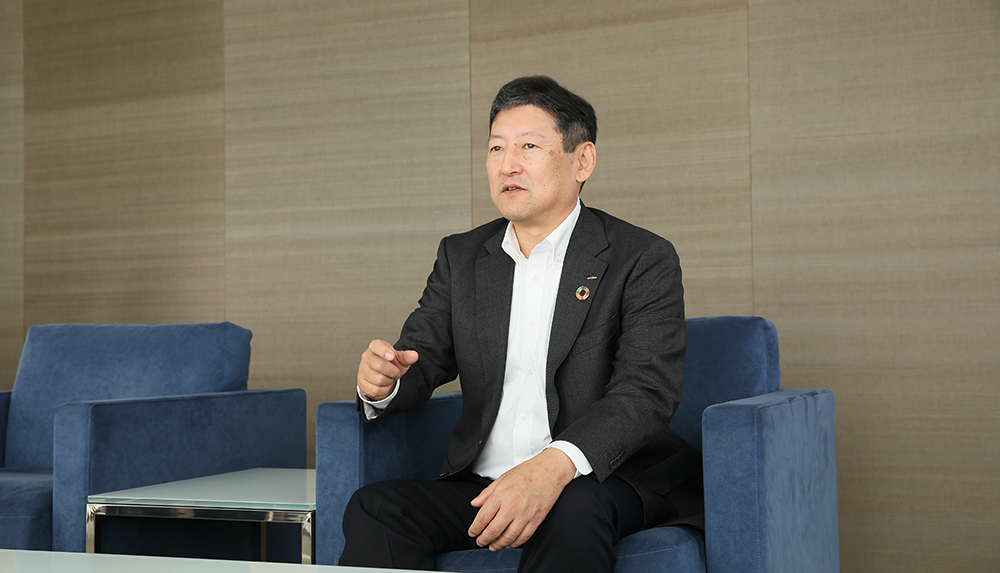 Sysmex delivers instruments and reagents for in vitro diagnostics. Ono says that the healthcare business and the global environment are closely intertwined.

"For us to lead a healthy life, we must resolve environmental issues. The way things stand in the world, however, our planet is warming due to population expansion and economic development, affecting our physical environment. One such example is the expansion of areas where malaria, one of the world's three major infectious diseases, is endemic. Spreading via mosquitoes, malaria becomes rampant as habitats for mosquitoes expand due to rising temperatures."



"Environmental issues are also deeply connected to the stable supply of our products, one of the overriding missions of healthcare companies. In Europe, frequent droughts triggered by climate change have disrupted the services of cargo ships in recent years, bringing confusion to logistics. I believe that each company should consider such disruptions as mid- and long-term risks and be proactive in dealing with them"
Meanwhile, Ono believes that there's one thing that everyone in the healthcare business should be aware of.
"Some may think that we serve the common good just by being a healthcare business, but this can breed arrogance, making us rest on our laurels. We should never forget how we can and should improve living conditions if we are to contribute to extending people's healthy lifespans."

There's one thing that Sysmex especially cherishes in its environmental initiatives: a commitment to stakeholders that has remained intact since its founding days.

The founder of Sysmex set our corporate philosophy built upon the "Three Aspects of Confidence" and managed the company, focusing on delivering total confidence to customers, our associates, and employees of the Group. This foundation endures in the Sysmex Way, our current corporate philosophy. This philosophy inspires everyone in Sysmex and guides their delivery of total confidence to stakeholders."