We are working on technology development which is establishing analysis of the number of and type of cells in the blood and intracellular information.
Cellmeasurement technology : Flow cytometry technology(FCM technology)
Blood counters use specialized reagents (hemolytic and staining agents) for determining types of blood cells. Hemolytic agents include surface-acting agents, which are mixed with peripheral blood in the reaction chamber.
Surface-acting agents act to hemolyze red blood cells and increase the cell membrane permeability of white blood cells. Cells' external forms and internal structures change, and morphological differences are generated depending on the cell characteristics of individual white blood cells. In addition, specialized staining agents are used for the specific fluorescent staining of the nucleic acid within cells and intracellular organelles. Differences in blood cell fluorescence are generated depending on the nucleic acid and the type and quantity of intracellular organelles.
A scattergram is produced based on the detected fluorescence and scattered light, and an analysis algorithm is used to identify blood cell types. This allows for precise detection of the target cell.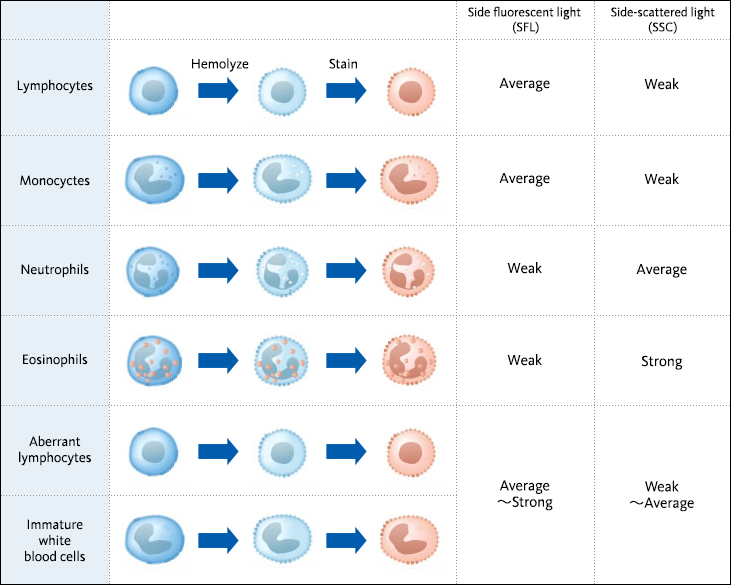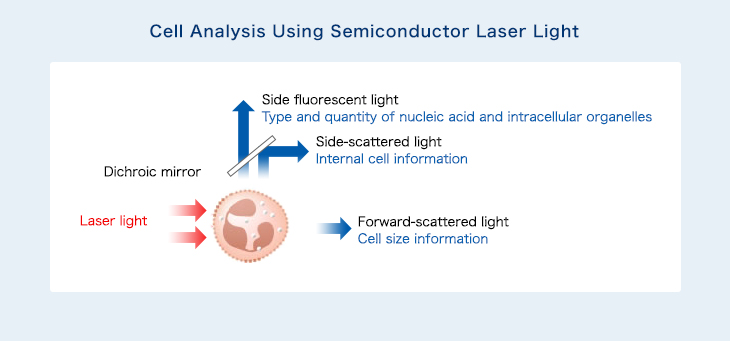 Current Cell Measurement Technology Initiatives
●MI (molecular imaging)-FCM
By promoting flow cytometry (FCM), a core Sysmex technology for measuring and analyzing groups of cells, we aim to develop diagnostic technology focusing on individual cell shapes and to realize personalized medicine through liquid biopsy.
Conventional FCM technology can be used to quickly and precisely measure large numbers of cells within a sample, but measuring individual cell details and distinctive functions is difficult.
However, by combining a technology using a special camera for highly detailed imaging of in-flow cells, technology to automatically analyze these images and FCM technology, we can detect protein locations within a cell, as well as chromosomal aberrations, thereby identifying with high precision minute numbers of cells in the blood that are behaving abnormally. (Circulating Tumor Cell.)
Sysmex has in-licensed imaging FCM technology* from Merck. By combining this technology with Sysmex's own technologies, we have developed molecular imaging FCM, which allows clinical applications.
●Flow FISH
As the first step of the MI (molecular imaging)-FCM, Merck and Sysmex have been jointly developing an automated system for FISH (Fluorescence In Situ Hybridization) testing using imaging FCM technology* since FY2015.
FISH testing is a chromosomal testing method employed in the diagnosis of cancer and other diseases. The current multi-step method involves looking through an optical microscope to determine whether genes within a cell are normal or abnormal. As this method is manual, it requires considerable effort on the part of clinical laboratory staff and limits the number of cells that can be tested.
The product under joint development will contribute automation to achieve enhanced testing efficiency and standardization. By incorporating FCM, the number of cells measured will increase, thereby achieving higher testing precision. We plan to begin by utilizing this powerful technique in leukemia testing applications.

Imaging FCM Technology
Imaging FCM is a proprietary Merck technology that combines FCM with imaging technology to process large quantities of cells with the rapid capture of images of cell morphology, fluorescent imaging and automated digital image analysis.