Information for Stakeholders
Sysmex's Businesses
Supporting Health through Testing
Clinical testing is used in many aspects of healthcare: in diagnosing and treating illness, measuring the results of drug administration and diagnosing health to aid prevention. Clinical testing can be broadly divided into two categories: in vitro diagnostics (IVD) that involve the examination of blood, urine and other samples taken from the body and in vivo diagnostics that involve direct examination using X-rays or electrocardiograms. Sysmex's primary business is in the IVD domain, where we provide medical institutions, commercial labs and other customers with instruments, reagents and software on a global basis.
Healthcare Activities
Sysmex's Products in Use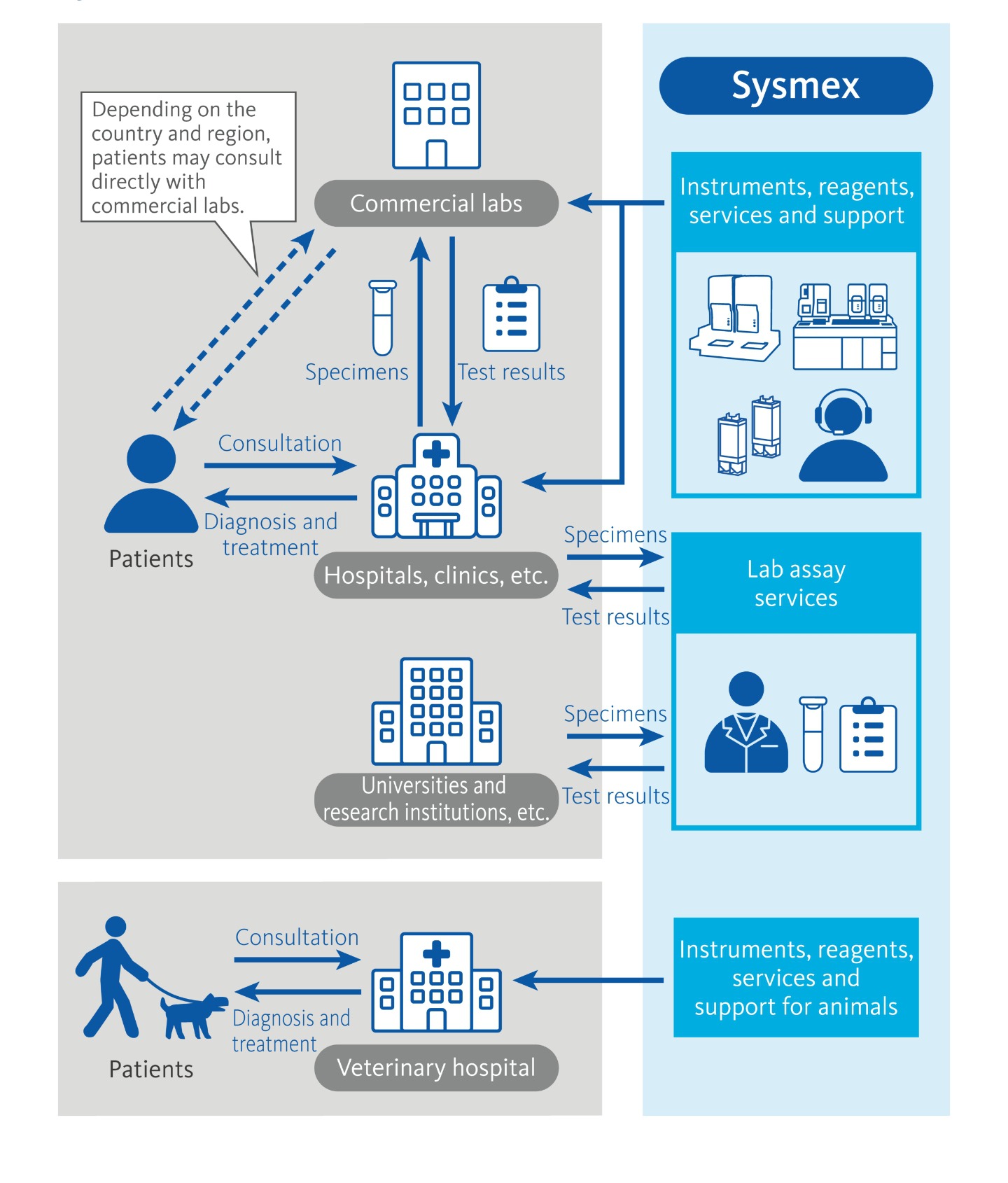 Commercial Labs

Commercial labs specialize in testing, performing tests on blood and other samples sent to them from general practitioners. Large commercial labs may handle tens of thousands of blood tests each day. These labs typically use our instruments with high-productivity transport systems.

Lab Assay Services
(Outsourced Sample Measurement Services)

We are developing a lab assay business, in which we receive samples from medical institutions, test them at affiliated companies' location, and send back the results of protein or gene analysis performed on the samples. In addition to medical institutions, we handle measurement on behalf of universities, research institutes and pharmaceutical companies, providing information to assist their drug discovery and R&D efforts.

Hospitals

We provide a variety of products to meet differing scales of use, such as blood tests used in medical checkups and for in- and out-patient treatment and diagnostics.

Clinics

Clinics typically use products that are compact and simple.

Veterinary Hospitals

Sysmex's products are used in maintaining the health of dogs, cats and other pets, as well as aquarium dolphins and zoo animals.