Dementia Patients on the Rise Around the World
The number of patients with dementia is rising each year in concert with the global increase in life expectancy. This disease is a major social issue worldwide, with 82 million people expected to be affected by 2030 and 152 million people by 2050.1
1. Source: World Alzheimer Report 2018
Alzheimer's disease accounts for about 60% of all dementias. It is characterized by a wide spectrum of symptoms, including memory impairment such as forgetfulness, disorientation (inability to recognize time, place, or person), decreased physical function, and changes in personality and behavior. The speed at which it progresses varies greatly among individuals.
There are cases in which it is difficult to make a diagnosis of Alzheimer's disease based solely on medical interviews and cognitive function tests. Therefore, a detailed examination is necessary, but conventional testing methods are not always easy to perform because of the cost and the physical burden associated with them. Moreover, there are many challenges for both healthcare professionals and patients, including difficulty in obtaining objective data to assist in diagnosis and determining the degree to which dementia has progressed based on such data.
Early Testing and Diagnosis Are Essential for Early Treatment
Alzheimer's disease is thought to be caused by a protein called amyloid beta (Aβ) accumulating in the brain and damaging nerve cells.
ADUHELM™ (aducanumab-avwa), a new drug treatment for Alzheimer's disease, received accelerated approval from the U.S. Food and Drug Administration in June 2021, and has been shown to remove Aβ deposits in the brain. It is expected to be the first drug to address a defining pathology of Alzheimer's disease.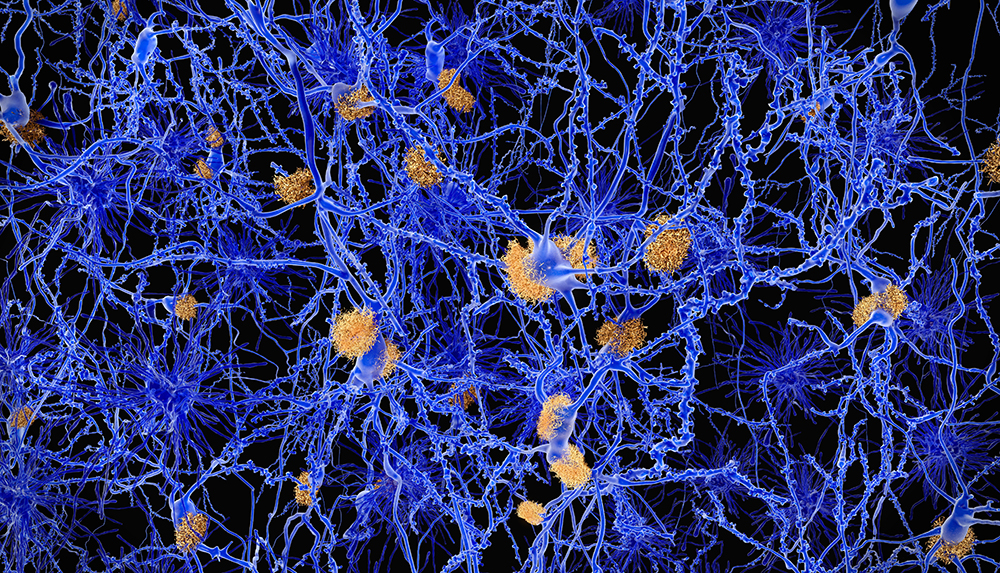 However, once the nerve cells are damaged, they cannot be regenerated, so it is important that the disease be diagnosed at the earliest stage possible, and treatment initiated. For this purpose, a test method that can be performed easily and quickly is needed.
Establishing a Test Method That Reduces the Burden on Patients
Sysmex has been conducting research on testing and diagnostic technologies in order to apply its R&D capabilities cultivated in the clinical testing field to the diagnosis of Alzheimer's disease.
Since February 2016, in collaboration with Eisai Co., Ltd., we have been developing next-generation diagnostic reagents that will enable the early diagnosis of Alzheimer's disease, selection of therapeutic agents, and monitoring of therapeutic effects. Eisai has a wealth of experience and knowledge in the field of dementia and developed the therapeutic agent ADUHELM™, with the U.S. pharmaceutical company Biogen.
Amyloid PET imaging, which visualizes the accumulation of Aβ in the brain, and examination using cerebrospinal fluid, have conventionally been used in the diagnosis of Alzheimer's disease. However, amyloid PET imaging is available at only a limited number of testing facilities, and is expensive since it is not covered by insurance. Moreover, cerebrospinal fluid examination (lumbar puncture) is an invasive and painful procedure that involves a needle being inserted into the patient's spinal column, thus diagnostics which is less invasive and can be measured more frequently has been needed.
Therefore, Sysmex began working on a new testing method that analyzes blood, which is less burdensome for patients, instead of the conventional method that directly analyzes the affected tissue. Using our fully automated immunoassay analyzer, we have developed a new diagnostic reagent for the measurement of Aβ in blood. Since our immunoassay analyzer is already in use at many hospitals and other facilities, we anticipate that the new diagnostic reagent will be readily adopted and help increase the number of patients undergoing the test.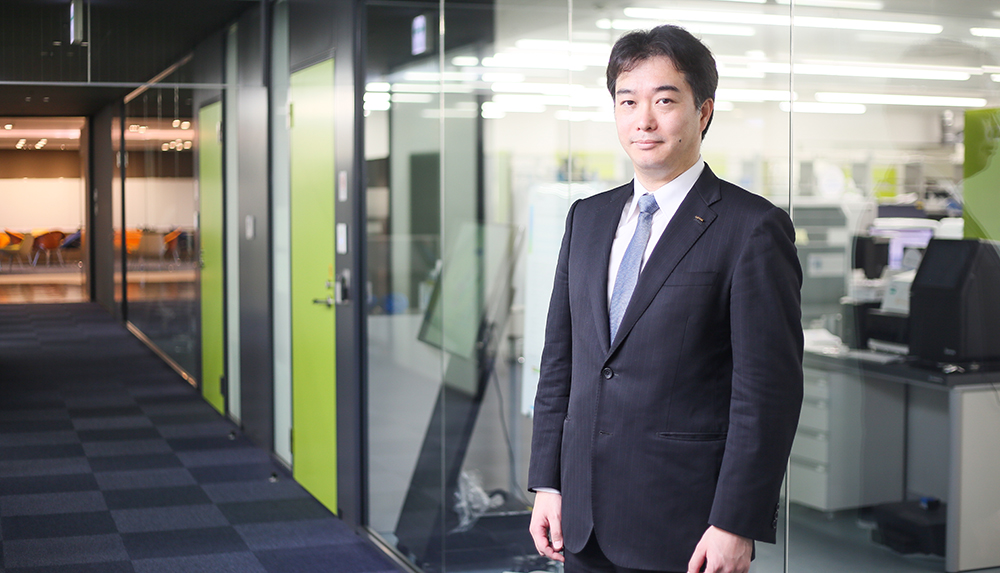 "Our mission is to develop testing and diagnostic technologies that are more easily tolerated by patients", says Shigeki Iwanaga, who is involved in the research and development of blood diagnosis technologies for dementia at Sysmex's Central Research Laboratories. Having researched Aβ for over 10 years, he is the leader of a project on Alzheimer's disease, a project that moved into top gear in 2016.
Accelerating R&D of Alzheimer's Disease Treatment with a Shared Vision and Values
Research on Alzheimer's disease is underway at pharmaceutical companies and research institutes around the world, but according to Iwanaga, the trend has changed dramatically in recent years.
Iwanaga stated, "While Aβ has been the focus of attention for about 20 years, there are many cases in which the measurement results do not match the diagnosis by the doctor, and it has thus been said that Aβ is not useful when trying to establish if someone has Alzheimer's disease. Things changed almost overnight when a research paper published in 2018 reported that accurate measurement of Aβ in the blood could help identify the accumulation of Aβ in the brain." Due in part to these changes in the external environment, research on Alzheimer's at Sysmex is accelerating year by year.
Initially, only members of the Central Research Laboratories took part in the development, but over the course of a year or two, as the results of the research accumulated, the project has grown into a cross-departmental project involving staff from other divisions.
Wishing to help patients: Iwanaga's dedication will never waver, but the difficulty of R&D is that you never know until the end whether you will really succeed. Nevertheless, Iwanaga is greatly encouraged by the positive attitude of his fellow company personnel who believe in the potential, saying, "We want to reduce the anxiety of patients and their families as much as possible through our efforts," and "The world will change dramatically if blood testing enables us to carry out examinations easily that render a reliable diagnosis."

Making Dementia Screening More Accessible
In 2021, the development of this technology has been further accelerated. While Iwanaga is always busy, his primary motivation is his devotion to helping patients.
"Testing is essential for prescribing therapeutic drugs. With our testing and diagnosis technology, more people will have the opportunity to undergo screening tests, which will lead to early treatment. In particular, we believe that if we can achieve early detection and treatment in elderly patients, there will be an increase in the number of people who can live their lives naturally with the onset suppressed. Just imagining a society where many people can live long and healthy lives naturally galvanizes me."
Iwanaga also believes that new testing and diagnostic technologies for Alzheimer's disease will contribute not only to patients but also help the people around them.
"In the case of elderly patients, support is often needed in every aspect of their daily lives, and this may result in younger persons, such as families and children, facing constraints in their own lives. Watching your loved one's cognitive function deteriorate up close is excruciatingly painful. I believe that if we can detect the disease at an early stage, we can reduce the number of such cases significantly. The way we deal with this disease will change greatly if the time comes when we measure Aβ in the same way we measure cholesterol and blood glucose levels at regular health checkups. We believe that our research and development can contribute to the happiness of not only patients but also their families and the people around them."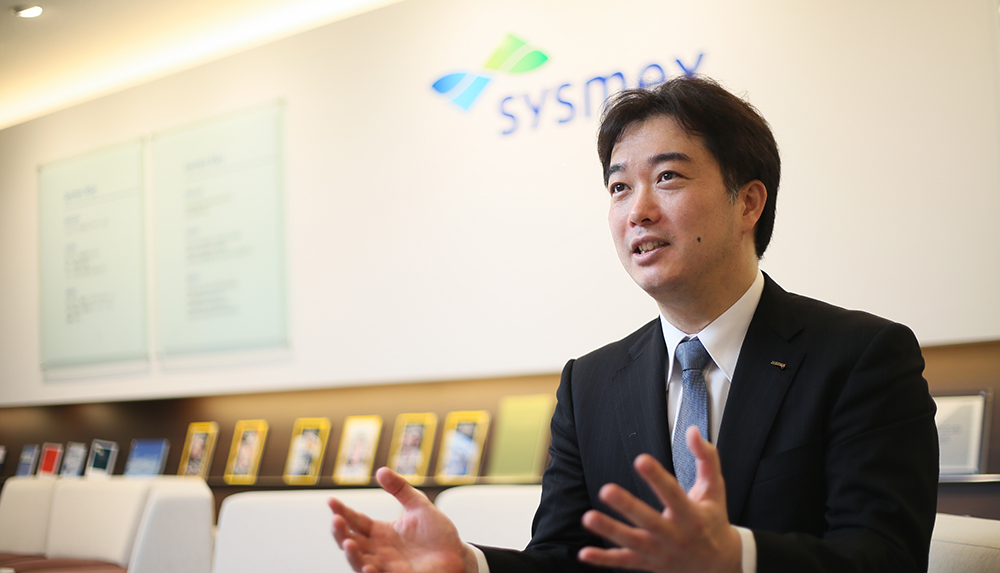 Wishing to Contribute to the Comfort of as Many People as Possible
The development of next-generation diagnostic reagents for Alzheimer's disease, which Iwanaga and his colleagues are working on, is now making steady progress toward regulatory application. Looking further into the future, Iwanaga talks about the dream he hopes to fulfill.
"Apart from Alzheimer's disease, other cranial nerve disorders impair the quality of life of many people, regardless of their age. Up until now, it has been very difficult to collect brain information with blood tests, but if we can establish this technology to measure Aβ in blood, it would be regarded as a milestone in the accurate measurement of brain information with blood tests. My dream for the next 10 to 20 years is to come up with new testing and diagnostic techniques that can help not only patients with known conditions, but also those suffering from diseases of unknown etiology."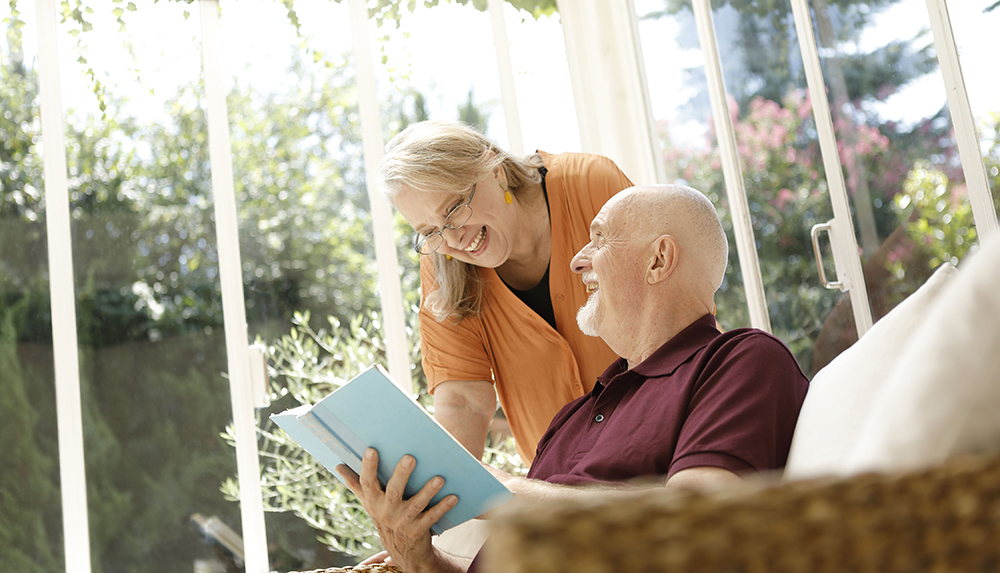 Iwanaga says that through this joint development, he also realized the importance of increasing cooperation with outside parties.
"We would like to proactively build relationships with pharmaceutical companies and other external organizations. By doing so, we hope that we will be able to combine diverse knowledge and information to create new therapeutic agents, as well as testing and diagnostic technologies. We also believe in the importance of redesigning the social system as a whole from the perspective of how we can lead a healthy life and realize a better medical environment, not just establishing and providing testing methods. Recently, we have been exchanging opinions with insurance companies about insurance policies for diseases where treatment incurs a heavy financial burden, with the aim of creating a better medical environment for patients to undergo examinations and receive treatment. First, we must establish a new testing method for Alzheimer's disease and make it universally available, thereby paving the way for appropriate treatment. We would like to contribute to the health of as many people as possible by furthering our research and development."
The tireless efforts and passion of Iwanaga and his colleagues are the very embodiment of Sysmex's goal of social contribution through its business activities. Sysmex will continue to pursue its mission of "shaping the advancement of healthcare" with a commitment to patients, their families, and healthcare professionals.
Related Information