Sysmex has identified "resolution of medical issues through products and services" as one of the goals we should prioritize to realize a sustainable society and sustainable growth of the company. One of the tasks that we are working on in this regard is supporting standardized and efficient malaria testing to contribute to early detection and treatment. Detailed below is the path we have taken to confront this infectious disease by introducing and distributing malaria diagnostic devices.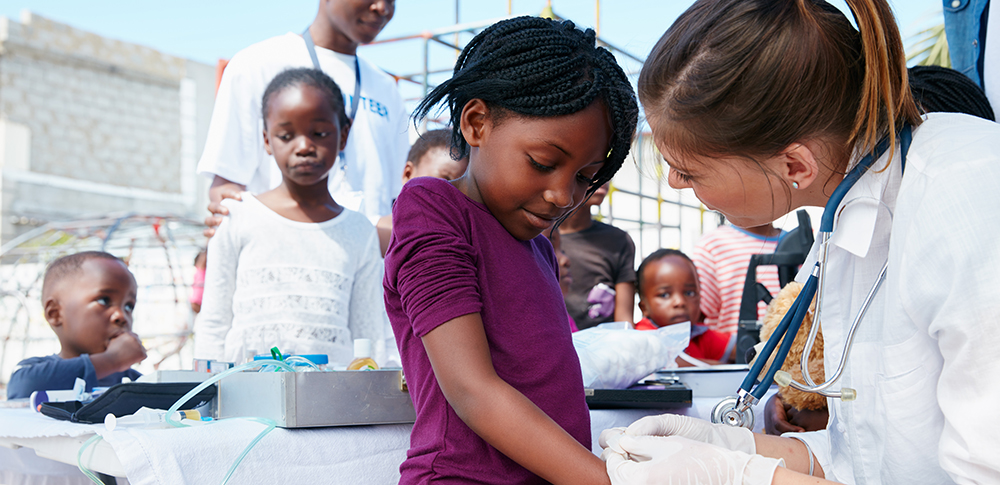 Claiming a Child's Life Every Two Minutes
One of the three major infectious diseases alongside HIV/AIDS and tuberculosis, malaria is a protozoan infection that is widespread mainly in tropical and subtropical regions. When a mosquito
bites a person and introduces parasites into their body, red blood cells are infected after a certain incubation period, and symptoms such as fever, headache, vomiting, and anemia can occur.
According to the World Malaria Report 2020 published by the World Health Organization (WHO), approximately four billion people—nearly half of the world population—are exposed to the risk of malaria infection. Every year, more than 200 million people are infected, with the death toll reaching around 400,000. The hard fact is that most of the infected are children under five years of age in Africa, and every two minutes, a child dies from malaria.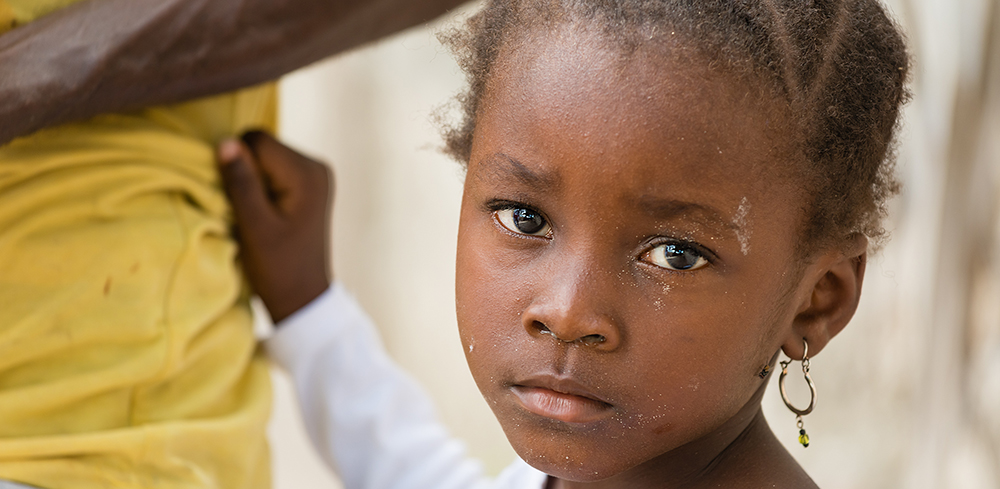 A New Method to Realize Early Detection/Treatment
A delay in diagnosis and treatment can trigger a subsequent increase in the severity of malaria. Inversely, if malaria can be detected and treated at an early stage, the lives of patients can be saved. With this in mind, Sysmex began applying its wealth of diagnostic techniques in hematology to study the feasibility of developing malaria diagnostic devices to help achieve early detection and treatment of malaria.
---
How can malaria be diagnosed?
According to the WHO, malaria can be diagnosed either by microscopy (visually checking red blood cells infected with malaria parasites) or malaria rapid diagnostic testing (RDT) by way of an antigen-antibody reaction. Both take about 15 to 30 minutes, including pretreatment. For microscopy, it is necessary to find infected red blood cells out of the countless uninfected ones, and then discriminate malaria parasite types, which requires expert skills.
On the other hand, RDT is relatively easy to use but is only good for qualitative result, positive or negative. It is unable to determine the parasitemia (the percentage of red blood cells infected with parasites). Therefore, it has significant limitations, including the inability to determine which patients need to be treated early or to check how effective drugs are in the treatment after diagnosis.
---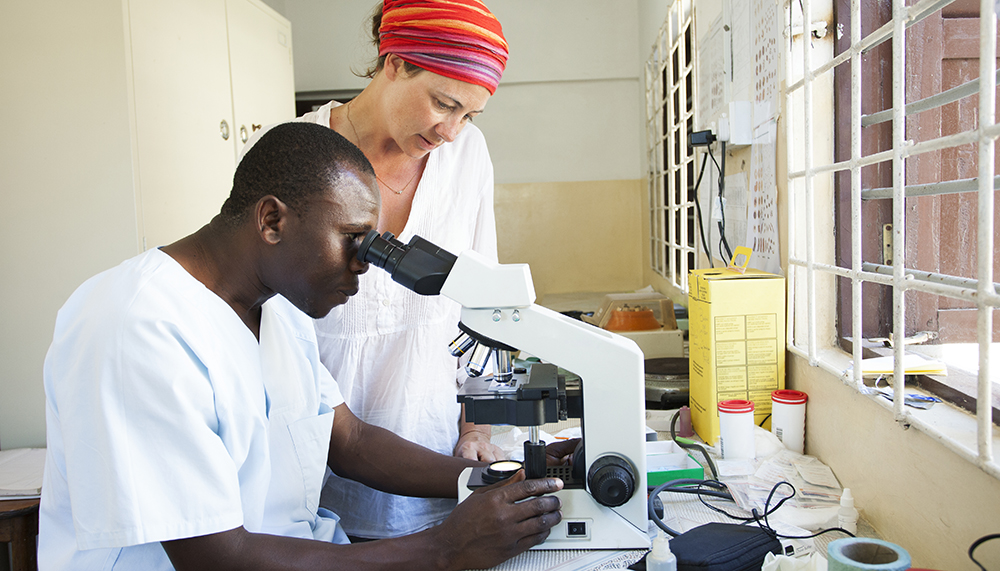 Venturing into Uncharted Territory, Not Knowing What to Expect
"Actually, the very idea of a malaria diagnostic device has been discussed time and again within the company since around 1980, but they ended up backing off from the plan each time because of the sheer difficulty in technology development. When we decided to revive the plan this time, we started with no idea of what to expect, and without any clue as to where the market is," says Chiaki Takeuchi, who is involved in product planning, business development, and collaborative study development of new diagnostic technologies in the Hematology Business Development Department. "It was like venturing into uncharted territory," she says, looking back on their multi-year project.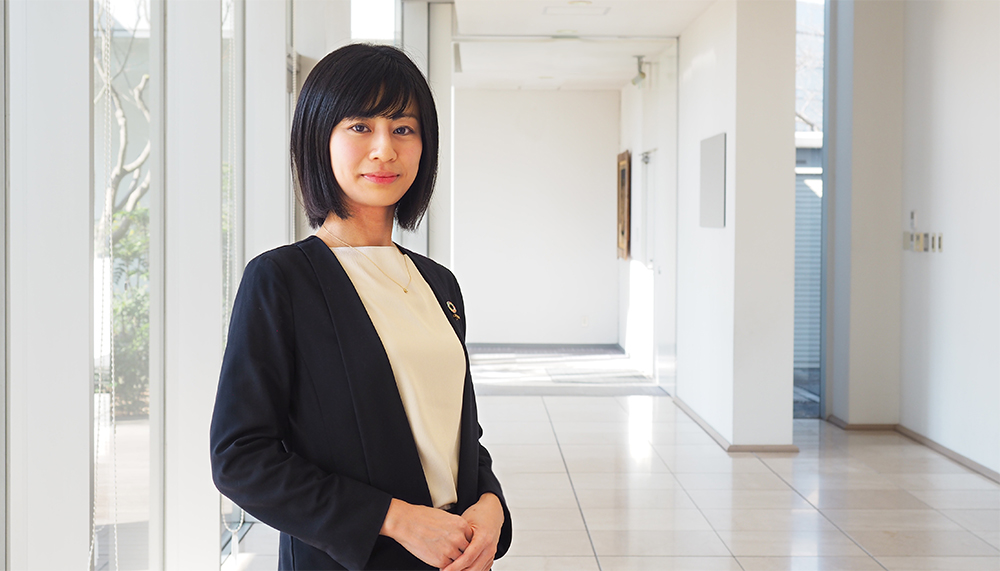 To get an idea of where the target was, the first thing they did was to survey the malaria testing market. In Africa and Asia, where many malaria cases are reported, they began gathering relevant information, including at what places in what regions malaria testing is performed, how much testing costs, and local regulations on infectious diseases.
The survey found that not only hospitals and clinics in places where malaria is prevalent, but also general hospitals in Europe and other developed countries, conduct malaria testing in case travelers or businesspeople get infected with malaria while abroad and develop symptoms after returning home. They also found that residents of endemic areas who travel overseas on working visas are subject to malaria testing before and after departure from their country, and that malaria testing is also conducted to prevent infection from donated blood. "Would they really need an automated malaria diagnostic device if we developed one?" was the question often asked within the company before the survey results were out. With the results in hand, though, they realized where the clear needs were, taking a major step toward the development of a malaria diagnostic device.
Diagnostic Devices Facilitate Efficient and Standardized Malaria Testing
Incorporating technology accumulated through our experience in the hematology business for measuring the count and size of red and white blood cells, Sysmex's malaria diagnostic devices can automatically identify and count red blood cells infected with malaria parasites promptly and precisely.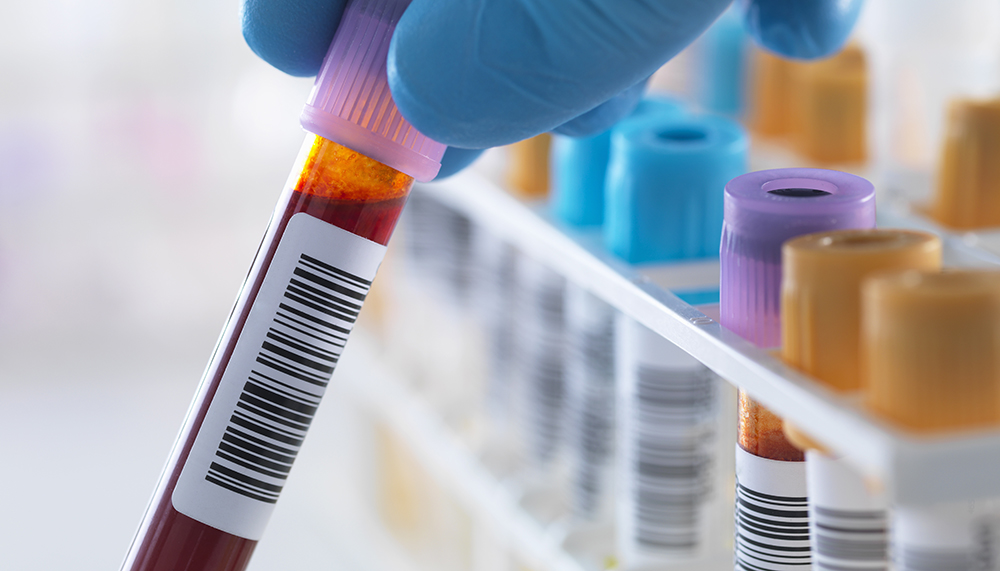 In 2019, we obtained CE certification that enables us to sell the product in Europe, and in 2020 we received regulatory approval for the first medical device that aids malaria diagnosis in Japan. Let's hear what Takeuchi has to say about the advantages of this unique offering from Sysmex.
"The most distinctive features are speed and precision. It completes the testing process in as little as one minute, whereas microscopy takes 30 to 60 minutes, and RDT 15 minutes, and measures the ratio of infected cells precisely. Furthermore, it simultaneously analyzes the amount of hemoglobin and counts the numbers of white blood cells and platelets, as well as red blood cells. Because the level of anemia—one of the symptoms of malaria—can be checked by the amount of hemoglobin, it helps to ascertain the general condition of patients. No sample preparation is necessary. All you need is to set samples and press the Measurement button, which reduces the workload in various medical settings."
Sysmex-branded malaria diagnostic devices have already found a market in Europe and in some African countries, but getting to those markets was a more convoluted process than expected.
In the Face of the Agony and Sorrow of People
Eliminating malaria, one of the world's three major infectious diseases, is one of the overarching global challenges. As such, a multi-layered approach is being taken in which the WHO takes a coordinating role in setting master goals and strategies, based on which national and state governments in each country draw up concrete policies on how medical professionals should diagnose and treat malaria. To introduce the diagnostic device developed by Sysmex to the market, we had to start by actively working on the massive global network forming the base of the market to convince them of the importance of the new devices from Sysmex.

"We focused on building good relationships with malaria-related organizations and key opinion leaders, and of course communicating with WHO officials. Not many of them knew of this Japanese company named Sysmex, and the reality was that nothing could be done overnight. Before we even began to talk about the product, we needed to earn their trust in a somewhat roundabout way, telling them who we are and what we are doing. I must say, the fact that Sysmex has built a sales and service network that covers more than 190 countries and regions around the world is a major strength. Having the solid backing of a proven business gives us serious credentials in the malaria business," Takeuchi said.

The conventional approach of visiting hospitals and testing facilities individually to sell newly-developed products did not suffice, and no one had the "right" answer. Yet, Takeuchi managed to carve out a path through multiple rounds of trials and errors. She shared with us one episode that she said became a driving force for her.

"When I visited Kenya for a market survey, there was a man from Sysmex's local affiliate who served as a guide for me. During our many hours of traveling, we told each other our stories. He told me that he was the first son of ten children, but he and one other sibling were the only survivors. The other eight died as children from malaria and other deadly diseases. This was a tremendously sobering moment for me. I had known that one child dies every two minutes there, but with this reality seeming so far away from Japan, my sense of the fact was not sharp. But here I was in a part of the world where people regularly die from malaria, leaving friends and family to suffer from and lament their deaths. Talking with someone who lived in this reality changed something in me, and my attitude toward this project was similarly affected."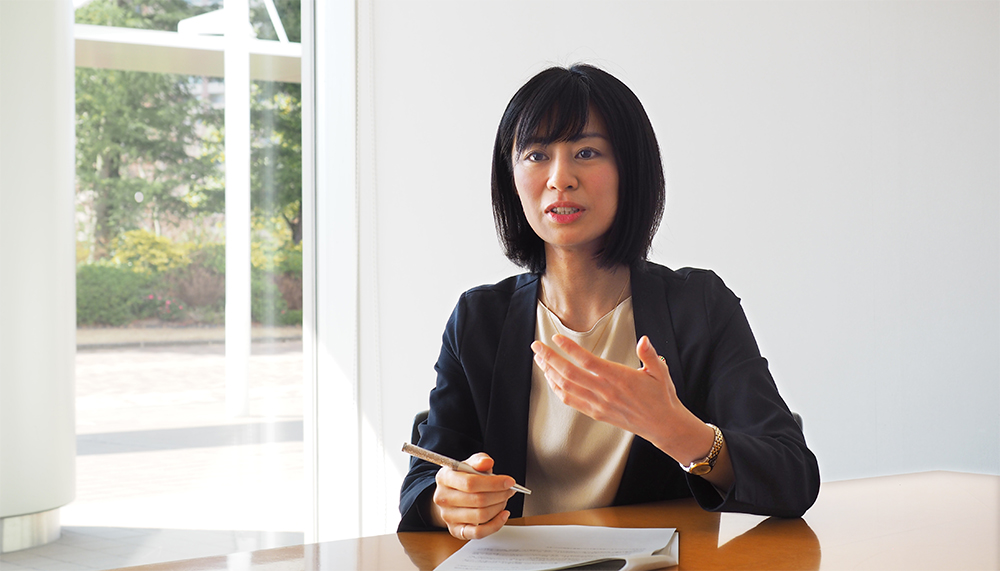 Meanwhile, Takeuchi has maintained close communications with malaria researchers. Such encounters gave rise to a sense of mission in her, which has kept driving her forward. "I have had the pleasure of knowing doctors and researchers who have brought enormous passion to eliminating malaria for decades, with some residing in countries in Africa and Asia to combat this fatal disease, and others dedicated to the development of vaccines. My desire to save the lives of as many patients as possible with this diagnostic device gets stronger day by day, and my passion burns with a similar intensity maintained by the admirable doctors and researchers facing to patients on the frontlines."
To our great joy, users of this device send us favorable reviews on its performance. Some thanked us for helping to make their testing efficient, as it does not necessitate many hours of training, and others are sending constructive suggestions based on their user experience, such as "If you use it this way, it will be more convenient," or "If you do this, you can expand its scope of application." Sysmex plans to further advance the technology that it has cultivated for this device.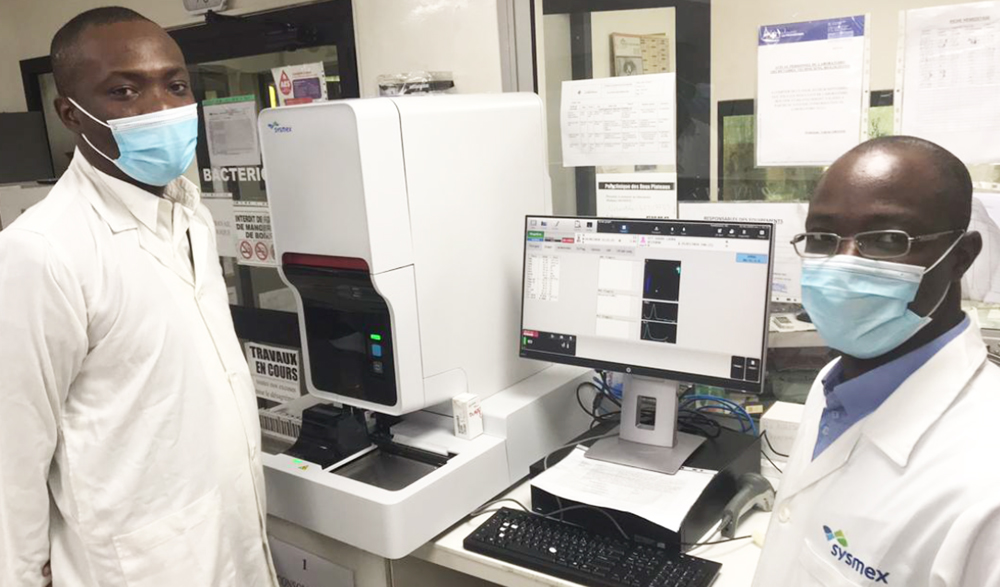 A World Without Malaria
Looking back on what she has achieved so far, Takeuchi says with conviction, "The project wouldn't have come to fruition without the generous support of many, both within and outside the company."
"We couldn't have come this far without the collaborative efforts of members from sales and marketing and scientific affairs teams outside of Japan, as well as our peers in Japan. They were passionate enough to work on this project as if it was their own. I will verbalize what I have learned from this project and communicate it to the company so we can apply it to other businesses. Our next goal is to come up with a new testing technology that will follow in the footsteps of our malaria diagnostic device project, thereby helping the company to shape the advancement of healthcare."
She also wishes to thank the doctors and researchers to whom she owes much: "I cannot give thanks enough to the many doctors and researchers who guided us in developing this device, obtaining regulatory approval, and releasing the device to the market. I would like to take this opportunity to express my heartfelt appreciation to them who have supported us since the inception of the very concept of this device and to everyone who has assisted us along the way."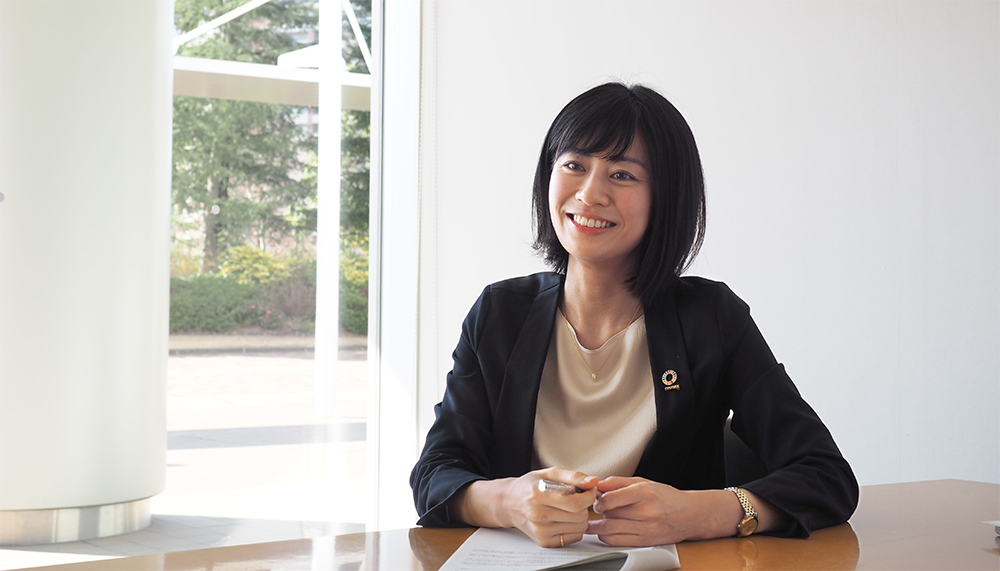 The malaria diagnostic device is the epitome of what Sysmex can do with knowledge sourced from both within and outside the company, its proven technologies, and a strong yearning to meet public needs. Takeuchi shares with us her vision for prospects to come.
"I will continue to focus on increasing our market penetration and striving to lead a run of successful projects so that Sysmex's contributions to global health will earn wider recognition. Bringing an inspiring idea to completion, no matter how hard it may seem—to me, this is what defines Sysmex. Here, I can tackle anything I want with a positive outlook and work with fellow associates in friendly rivalry without giving up. This is where I want to be, and I will continue to challenge myself at this company," she concludes.
Now that regulatory approval has been received in Japan, her team will accelerate the acquisition of regulatory approval in Asian and African countries and start to provide the device in those markets, with the ultimate goal of eliminating malaria. Her worthy challenge continues.
Related Information
Information contained in the stories is current as of the date of the announcement,
but may be subject to change without prior notice.