On April 15, 2020, Institutional Investor, a major US investment magazine, named Sysmex Corporation (HQ: Kobe, Japan; Chairman and CEO: Hisashi Ietsugu) a "Most Honored Company" in the Medical Technologies & Services Sector for the "2020 All-Japan Executive Team."
Institutional Investor
introduced this ranking in 2013. The magazine names Japanese companies that conduct excellent investor relations activities, based on the votes of institutional investors and security analysts around the world. In 2020, some 349 investors and analysts from 189 companies participated in the voting. Sysmex was ranked within the top three in the Medical Technologies & Services sector in all ranking categories: Best CEO, Best CFO, Best IR Professional, Best IR Program and Best ESG. Accordingly, we were named a "Most Honored Company" in this sector.
We will continue to promote IR activities aimed at enhancing corporate value through bilateral communications with shareholders and investors, in line with our basic stance of disclosing corporate information in a fair, prompt, correct and clear manner.
Note: For further details, click the following link to Institutional Investor's website.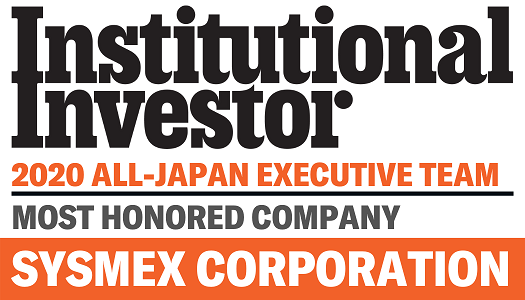 Information contained in the topics is current as of the date of the announcement,
but may be subject to change without prior notice.