The Inoue Harushige Prize, established in 1976 to commend researchers and companies, is given to researchers and corporations for outstanding technology that a company has developed and commercialized using original research from a university, research institute, or similar entity, and that contributes to the advancement of science and technology in Japan, economic development, and greater welfare.

Sysmex developed hepatic fibrosis diagnostic technology using a new glycosylation marker in collaboration with the National Institute of Advanced Industrial Science and Technology, or AIST (Tsukuba HQ: Tsukuba, Ibaraki Prefecture, Japan; President: Ryoji Chubachi) based on the success of New Energy and Industrial Technology Development Organization (NEDO) projects.1 On this basis, we developed a diagnostic reagent to quickly determine (17 minutes) from a blood test the degree of progression of hepatic fibrosis by using a glycosylation marker.2 In December 2013, we became the first company in the world to commercialize this technology.3

Viral hepatitis is the most prevalent infectious disease in Japan, affecting some three million people. Left untreated, the condition can develop into severe illness as it progresses to liver cell carcinoma. In the past, the typical method for determining viral hepatitis and the progression of hepatic fibrosis involved performing a liver biopsy4 or extracting other living tissue from the patient. Such methods placed a significant physical and emotional burden on patients and involved the use of expensive diagnostic imaging equipment. However, due to the practical realization of this technology and its coverage under Japan's national health insurance, clinical laboratories at healthcare institutions are now able to conduct measurements more quickly than by using conventional technologies. They can also measure the progression of hepatic fibrosis, using just a blood sample and without hospitalizing the patient. In addition to reducing the burden on patients in treating chronic viral hepatitis, this technology reduces the amount of time and medical expenditure required for appropriate treatment.

Sysmex aims to expand its hepatic fibrosis test reagent (HISCL™ M2BPGi™ Assay Kit) business on the basis of this technology. To this end, we are leveraging the evidence from clinical evaluations in Japan to roll out this business in China, South Korea, Southeast Asia and other areas.

Sysmex plans to continue accelerating R&D conducted through industry–academia–government collaboration, thereby stepping up its efforts toward the practical realization of leading-edge technologies.


44th Inoue Harushige Prize presentation ceremony
Presentation ceremony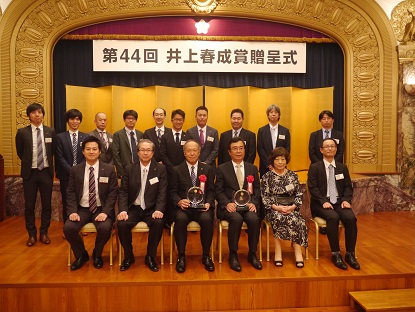 HISCL™ M2BPGi™ Assay Kit