Sysmex Corporation (HQ: Kobe, Japan; Chairman and CEO: Hisashi Ietsugu) will launch the Imaging Flow Cytometer MI-1000 and related software MI FISH Master as a system. This system utilizes imaging FCM technology1 to automate FISH testing2 for determining chromosomal abnormalities in circulating cells. By pursuing the verification of utility in the research market of automated FISH testing using the system, Sysmex aims to establish a basis for the clinical use of flow FISH testing at an early stage, as well as to increase the efficiency of and standardize FISH testing.
FISH testing is a chromosomal testing method employed in the diagnosis of chronic myelogenous leukemia (CML) and other diseases that exhibit specific chromosomal abnormalities. The current method involves using cells in the blood and looking through an optical microscope to determine whether chromosomes are normal or abnormal. As this method is manual, it limits the number of cells that can be tested, necessitates specialized technology for diagnosis, and requires considerable effort on the part of clinical laboratory staff.

Sysmex is promoting R&D on measurement technologies targeting genes, cells, proteins and other substances present in blood and other bodily fluids with the aim of expanding liquid biopsy,3 which would allow testing for cancer and other diseases using blood and body fluids. As one of its initiatives involving cell measurement technologies, Sysmex has promoted the development of an automated system for FISH testing using imaging FCM technology.

The newly developed system comprising Imaging Flow Cytometer MI-1000 and related software MI FISH Master captures the morphology and fluorescent images of large quantities of cells at high speed and at a high level of detail. These images are then analyzed automatically using imaging FCM technology to automatically detect chromosomal abnormalities contained in cells in the blood.
(Video on flow FISH testing: https://youtu.be/UCK8CpCrQA4)

Flow FISH testing can test more than 10,000 cells automatically in around 10 minutes. As well as contributing to testing efficiency and standardization, this method achieves better reproducibility than conventional manual FISH testing, as it enables measurement of 20 to 100 times more cells.

We plan to gradually expand the number of flow FISH testing parameters applicable to the system, starting with research applications in the area of leukemia such as BCR-ABL,4 a testing parameter for chronic myelogenous leukemia. Going forward, we will make use of the high-quality and broad-ranging FISH probe5 lineup of our subsidiary Oxford Gene Technology. Working with pharmaceutical companies and key opinion leaders in Japan and overseas, we will endeavor to verify the clinical utility of flow FISH testing. Our aim is to quickly establish the applicability of flow FISH testing for clinical use.
Through joint research with pharmaceutical companies and universities, Sysmex also plans to use the MI-1000 to establish a method for measuring circulating tumor cells.6

Going forward, Sysmex will continue to promote the expansion of new testing technologies related to liquid biopsy with a view toward personalized medicine. In this way, we will meet increasingly diverse and sophisticated testing needs and contribute to advances in healthcare.




Overview of the System
Product configuration:
Imaging Flow Cytometer MI-1000 (analyzer)
MI FISH Master (software)
Target markets:
Japan (to be gradually expanded to Europe and Americas)
Main features:
| | | | |
| --- | --- | --- | --- |
| | | ・ | By detecting cells' fluorescent signals at high speed, automates the process of detecting bright spots, which in FISH testing places a major burden on operators |
| | | ・ | Enables the fully automated detection of more than 10,000 cells in around 10 minutes |
| | | ・ | Compared with conventional FISH testing, which is performed manually, this system reduces the load on the operator through higher-throughput cell detection and the use of a specialized analysis algorithm to standardize testing. As a result, the system boosts reproducibility by increasing the number of measured cells to 20?100 times that of general FISH testing. |
Product Photo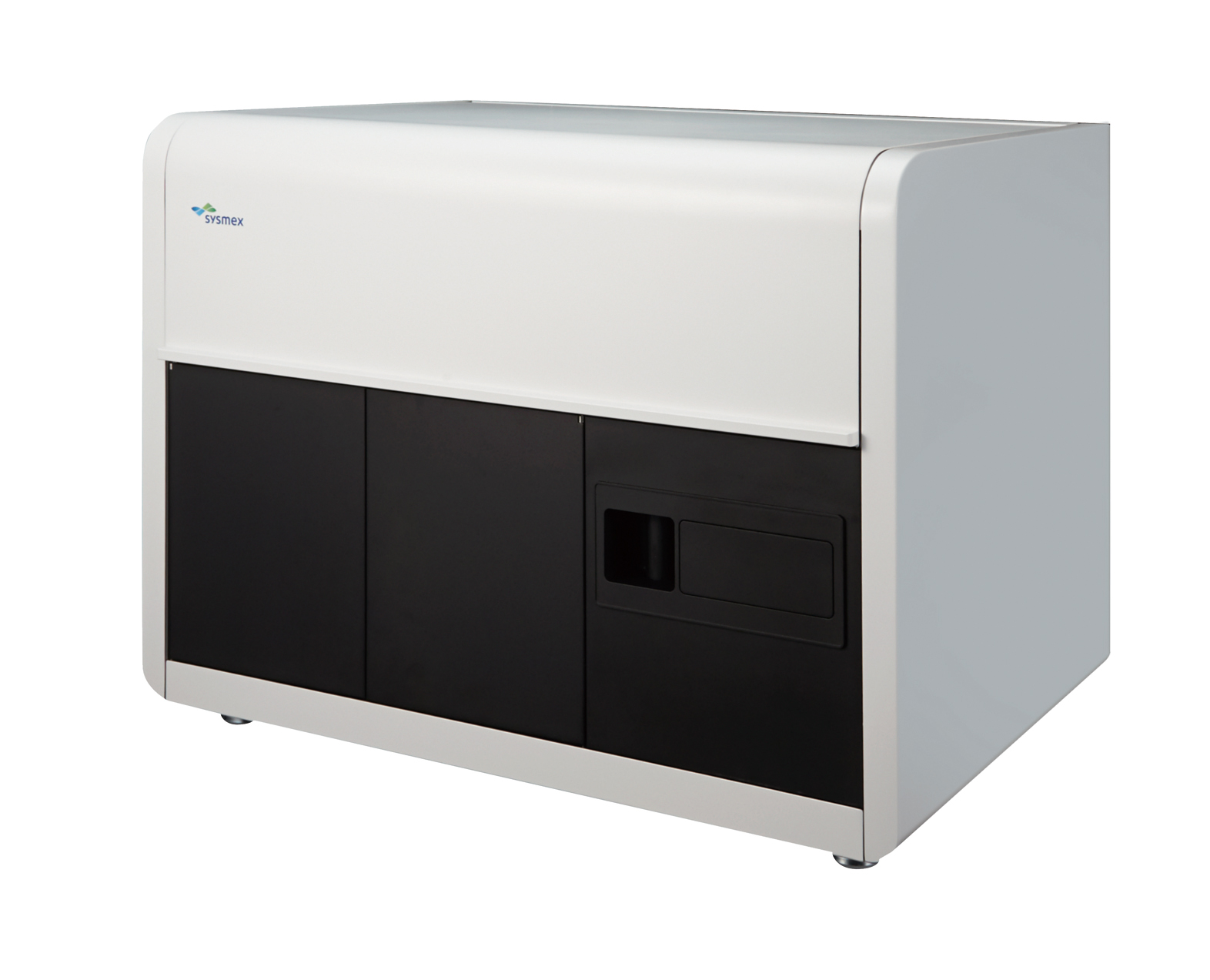 Imaging Flow Cytometer MI-1000 
Reference


Terminology
1
Imaging FCM:
Flow cytometry (FCM) is a method involving the flow dispersion of minute particles and the use of laser light to optically analyze minute flows, used primarily to observe individual cells. Imaging FCM is a proprietary Merck technology that combines FCM for processing large quantities of cells with the rapid capture of images of cell morphology, fluorescent imaging, and automated digital image analysis.

2
FISH testing:
A technique that uses fluorescent material binding only specific genes to detect target genes within chromosomes. Typical FISH testing requires the use of a microscope to view slides, but flow FISH testing allows for automated analysis, using an imaging flow cytometer for imaging.

3
Liquid biopsy:
Similar in performance to a biopsy, which is carried out on a sample taken from tissue such as tumors, but which attempts to reduce the burden on the patient by using blood or body fluid tests.

4

BCR-ABL:
A chromosomal abnormality that results in such diseases as chronic myelogenous leukemia (CML). A chromosomal abnormality in chromosomes 9 and 22 of a leukocyte causes the BCR-ABL gene to be generated, resulting in leukemia.


5
Probe:
Composed of specific DNA and complementary base sequences, a probe is a base sequence synthetically produced to combine with the DNA to be detected. A probe is used to detect where the target DNA exists.

6
Circulating tumor cells (CTCs):
Tumor cells circulating in the bloodstream or peripheral blood. Refers to cells that have separated from a primary or metastasized tumor and have invaded the blood. A multifaceted analysis of CTCs, such as changes in their number and characteristics, is expected to help in disease prognosis and obtaining effective information for providing appropriate treatment.

Information contained in the press release is current as of the date of the announcement,
but may be subject to change without prior notice.