Sysmex Corporation (HQ: Kobe, Japan; Chairman and CEO: Hisashi Ietsugu) has launched a super-resolution fluorescence microscope, the HM-1000 single-molecule fluorescence microscope, for research use. Employing super-resolution imaging technology, the HM-1000 achieves high spatial resolution1 (of less than 40nm), going beyond the limits of conventional fluorescence microscopes. As a result, the HM-1000 can be used for minute observation, such as the morphology of tiny proteins that exist within cells and the distribution of genes. Sysmex expects the HM-1000 to contribute toward effective R&D related to next-generation therapeutic drugs and diagnostic methods that will lead toward the realization of personalized medicine, as well as to developments in cellular biology.
In research into cancer and Alzheimer's disease, it is believed that the clarification of abnormalities in mitochondria and other organelles, tiny structures within nerve synapses,2 and relationships between disease and the localization and shape of molecules that exist in extremely tiny compartments within cells, could lead to the effective development of new therapeutic drugs and diagnostic methods.

However, to date the diffraction limits of light have made it difficult for fluorescence microscopes to observe structures and proteins smaller than 200nm. Super-resolution fluorescence microscopes can go beyond the diffraction limits of fluorescence microscopes to observe proteins and organelles tens of nanometers across, which are difficult to see using conventional fluorescence microscopes. Such microscopes are expected to contribute to a variety of research fields including cancer, Alzheimer's disease and regenerative medicine. Even so, current super-resolution fluorescence microscopes have failed to proliferate for a variety of reasons, such as their need for dedicated darkrooms and people with specialized skills to perform optical axis adjustments and other complex operations.

The Single Molecule Fluorescence Microscope HM-1000 uses proprietary super-resolution imaging technology, combining molecule detection technology using fluorescent dye with image analysis technology to achieve a high level of spatial resolution (less than 40nm). This super-resolution fluorescence microscope provides an internal darkroom space and is desktop-sized, combining the laser unit and monitor. As the microscope requires no specialized darkroom environment, specimens can be simply set into the microscope to obtain super-resolution images. These features make it possible to introduce such microscopes to a broad range of research facilities that previously found it difficult to use them. Initially, Sysmex plans to target its sales efforts for the HM-1000 at universities, pharmaceutical companies, national R&D centers and other research facilities in Japan. Going forward, we will gradually expand the target market.

In the future, as part of efforts to support the practical realization of new biomarkers that customers are calling for, Sysmex will also consider using the HM-1000 to amass evidence and verify the efficacy of tiny quantities of proteins (including those circulating in the blood) that have been measured by the Company's Automated High-Sensitive Immunoassay System for Research Applications HI-1000.

Going forward, Sysmex will continue working with customers to support effective R&D toward the development of highly valuable therapeutic drugs and diagnostic methods, thereby contributing to the development of personalized medicine.

New Product Overview
| | |
| --- | --- |
| Name: | Single Molecule Fluorescence Microscope HM-1000 for Research Use |
| Target facilities: | Universities, pharmaceutical companies, national R&D centers and other research facilities |
| Target markets: | Scheduled for gradual rollout, beginning in Japan |
| Launch: | October 2018 |
Features

| | |
| --- | --- |
| ・ | No dedicated darkroom necessary |
| ・ | Spatial resolution of less than 40nm |
| ・ | Compact desktop size |
| ・ | Employs Silent Design™ |
| ・ | Recipient of the Good Design Gold Award 2017 (Minister of Economy, Trade and Industry Award) |
Product Photos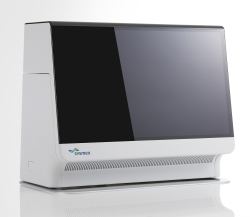 Compact, so requires little space and needs no darkroom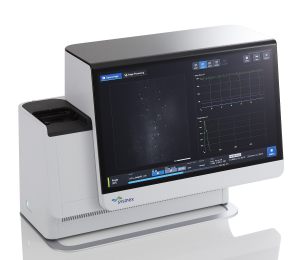 Monitor slides sideways, allowing for easy insertion of samples
Terminology
1

Spatial resolution:
Describing the ability to separate physical structures, spatial resolution is used to indicate the minimum distance at which a microscope can separate and distinguish two approaching points.


2
Nerve synapses:
The portion that connects nerve cells in the brain

Reference


Information contained in the press release is current as of the date of the announcement,
but may be subject to change without prior notice.