Sysmex Corporation (HQ: Kobe, Japan; Chairman and CEO: Hisashi Ietsugu) is launching the XS-500ix, an Automated Hematology Analyzer of its XS-Series, for the China market. Sysmex will be using the knockdown production method for the first time on this product. In this way, we aim to further increase competitiveness in the hematology market targeting small and medium-sized medical institutions, strengthening our position as a leading company in the in vitro diagnostics domain in China.
With the economy growing rapidly, China is simultaneously introducing healthcare system reforms, including a classification diagnosis system,1 and putting a healthcare environment in place. As such, demand for testing is increasing. Against the backdrop of sharply rising healthcare expenses in recent years, the Chinese government has promoted policies for allocating medical resources and increasing efficiency. Under these policies, the country directs patients with relatively minor or chronic diseases to Tier-2 or lower hospitals. In the past, such patients had tended to concentrate at Tier-3 hospitals, which are capable of providing sophisticated healthcare. For this reason, the number of hospitals classified as Tier-2 or below is expected to increase, along with the number of patients they serve, and demand in the country for sophisticated, high-quality products is expected to grow.

Sysmex was quick to recognize the growth potential of the Chinese market. To date, we have established a reagent factory in the country, and we have agreements in place with more than 200 sales distributors, through which we provide products with "made-in-Japan quality" throughout China. We have also established structures for supplying reagents and services, and are expanding our business in the country. Currently, China accounts for approximately one-fourth2 of Sysmex's consolidated net sales.

Sysmex is launching the XS-500ix, a new product in the Automated Hematology Analyzer XS-Series, for the China market. The primary target of the XS-500ix, which is designed for high performance, compactness and the ability to measure minute quantities of blood, is small and medium-sized medical institutions classified as Tier-2 or lower—a category in which the number of hospitals and the patients they serve is expected to expand. The XS-500ix offers the same level of high performance and quality as Sysmex's existing XS-500i. The XS-500ix also makes use of a product supply scheme that matches market characteristics. Under this scheme, for the first time Sysmex will employ the "knockdown production method," exporting major components from Japan and completing finished products locally.

The main components for this product will be processed and manufactured at the Kakogawa Factory (Kakogawa, Hyogo Prefecture), a factory for compact models. These components will then be shipped to China, where assembly, adjustment, testing and other manufacturing processes will be handled at the Jinan Factory (Jinan, Shandong Province, China). Adhering to the frameworks for ensuring high levels of quality and productivity that the Sysmex has cultivated when manufacturing instruments in Japan, the Jinan Factory will provide high-quality instruments to customers, inspiring confidence.

Competition is growing increasingly fierce in the China market. With this product, Sysmex aims to strengthen its sales promotion activities targeting small and medium-sized medical institutions classified as Tier-2 or lower—an area where particularly high levels of market growth are forecast. We also intend to further increase our market share and expand business in the hematology field.

Going forward, we will continue working to put in place structures optimized for individual regions and augment our product and service lineup, thereby meeting customer needs and market characteristics. As a result, we will accelerate standardization and raise the efficiency of testing, thus contributing to advances in healthcare.



New Product Overview
Name:
Automated Hematology Analyzer XS-Series
Product name:
XS-500ix
Target market:
China
Launch:
September 2018
Features:
- Its fluorescence flow cytometry delivers high quality analysis of white blood cells
- Capable of complete blood count and five-part white blood cell differentiation with the aspiration volume of just 20μL
- Employs easy-to-use interface
- Compact A3 size
Product Photo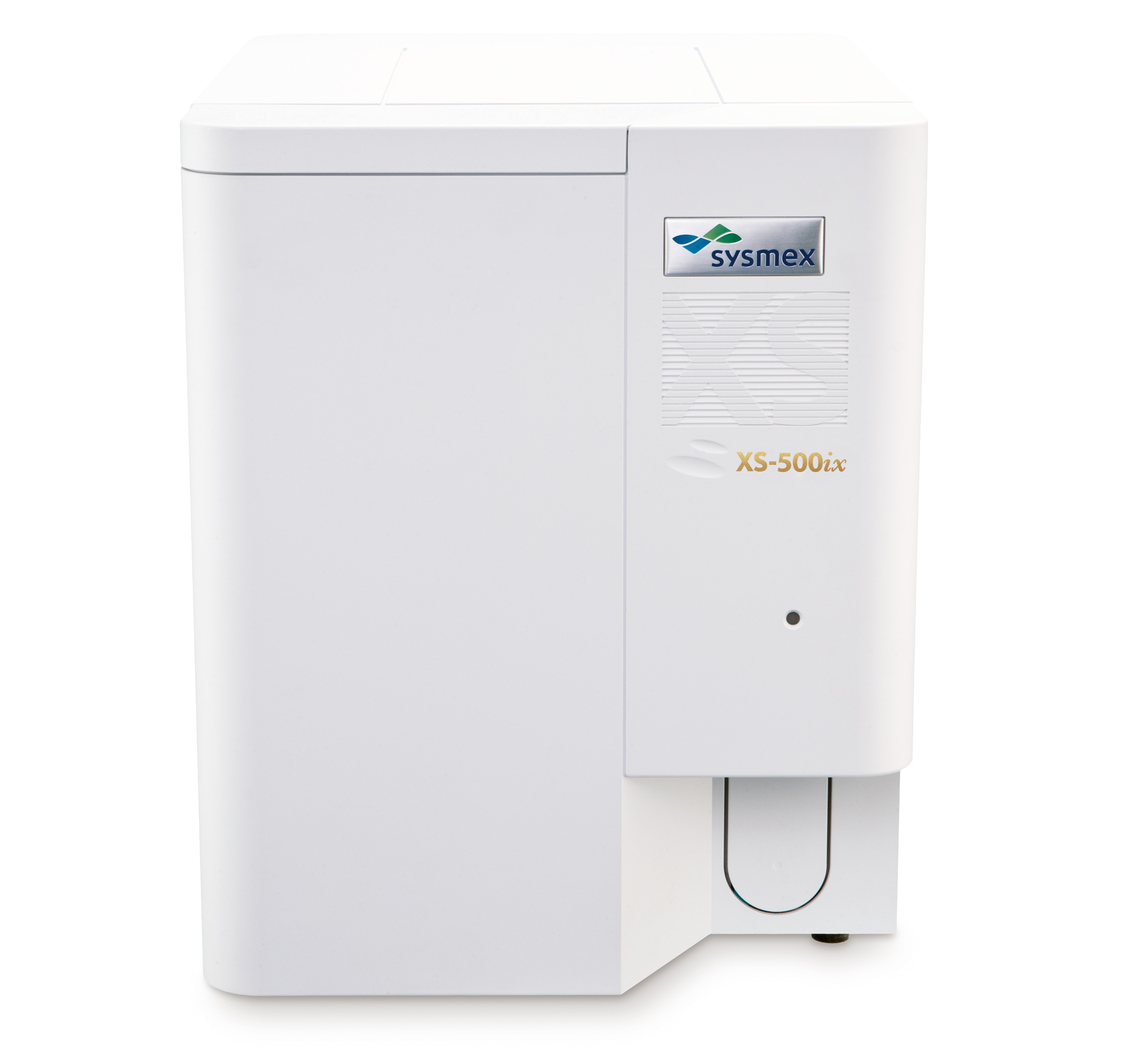 Automated Hematology Analyzer XS-Series XS-500ix



Terminology
1
Classification diagnosis system:
The Chinese government has introduced the Hospital Classification Management Law. This system is aimed at classifying and managing medical institutions by classification, defined by their status of infrastructure, function and role, and allocating and increasing the efficiency of medical resources.
Tier-3 hospitals provide the highest level of healthcare and Tier-1 hospitals the lowest.
The principal definitions used to classify hospitals are as follows.
(Tier-3 hospitals)
These hospitals provide highly specialized healthcare services in multiple regions, play a role in higher education and have a technological mission.
Number of hospital beds: 500 or more
(Tier-2 hospitals)
These hospitals provide comprehensive medical and health services to multiple communities, play a role in education and have a technological mission.
Number of hospital beds: 100—499
(Tier-1 hospitals)
These basic hospitals and health institutions offer prevention, healthcare, health preservation and rehabilitation services to communities with a certain scale of population.
Number of hospital beds: 20—99

2
Percentage of consolidated net sales accounted for by China in the fiscal year ended March 31, 2018

Information contained in the press release is current as of the date of the announcement,
but may be subject to change without prior notice.