Sysmex Corporation (HQ: Kobe, Japan; Chairman and CEO: Hisashi Ietsugu) has announced the launch of its HISCL™ Presepsin Assay Kit, which can be used with its Automated Immunoassay System HISCL-5000/2000i/800 for immunochemistry testing (HISCL-Series). This is a reagent for measuring levels of presepsin, a major test parameter for bacterial sepsis. The presepsin assay reagent helps achieve earlier diagnosis of bacterial sepsis and higher accuracy than is possible with conventional sepsis biomarkers. Moreover, through its addition to the reagent lineup, Sysmex aims to expand presepsin testing using the HISCL-Series.
Triggered by infection, sepsis is a pathological condition that progresses to septic shock, a particularly serious medical condition with sustained circulatory failure and abnormalities in cellular metabolism, leading to the failure of various organs, including the heart, lungs and kidneys. Worldwide, it has been reported that around 30 million people develop sepsis annually and about 6-8 million die as a consequence. The mortality rate for septic shock is high, therefore early diagnosis and treatment are extremely important. Premature infants and the elderly are particularly susceptible to sepsis. It also commonly occurs following surgery and is not uncommon in patients with malignant tumors, diabetes and liver cirrhosis and so on.

Compared with conventional biomarkers used in testing for bacterial sepsis, the measured level of presepsin rises more rapidly after onset of infection, is not readily influenced by surgery or major trauma, and indicates severity more accurately. It is therefore a biomarker with high clinical value and is expected to contribute to the earlier diagnosis of bacterial sepsis and help achieve a more accurate prognosis.* Since January 1, 2014, the presepsin test has been covered by health insurance in Japan for aiding the diagnosis of bacterial sepsis.

The HISCL Presepsin Assay Kit to be launched in Japan and is used in conjunction with the HISCL-Series to produce a test result for presepsin in around 17 minutes. Marketing activities for this reagent will aim to boost recognition of the clinical superiority of HISCL Presepsin testing using the HISCL-Series due to its convenience and speed, facilitate the expansion of presepsin testing, and make possible earlier diagnosis of bacterial sepsis and highly accurate prognosis.

Going forward, through the ongoing addition of unique test parameters in the immunochemistry field to our reagent lineup, while further reinforcing the superiority of the HISCL-Series, Sysmex remains steadfastly committed to reducing the burden on patients and improving the quality of testing.


New Product Overview
Product name:
HISCL Presepsin Assay Kit
Target use:
Plasma presepsin measurement
(Aid to the diagnosis of sepsis (bacterial))
Target market:
Japan
Target facilities:
Medium- to large-scale hospitals and commercial labs
Launch:
August 2018
NHK points (Japan):
301
Product Photo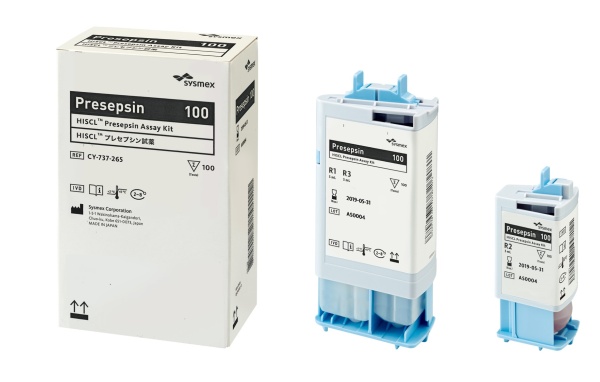 HISCL Presepsin Assay Kit

Terminology
*
Prognosis:
Prediction of a patient's condition following surgery, or the clinical course of a disease or future status of trauma, following treatment.
Information contained in the press release is current as of the date of the announcement,
but may be subject to change without prior notice.