Sysmex Corporation (HQ: Kobe, Japan; Chairman and CEO: Hisashi Ietsugu) employee Junya Inoue has been selected to receive the Medal with Purple Ribbon, medals of honor to be bestowed in spring 2018, for the development of an automated urinalysis analyzer using flow cytometry technology1. The award ceremony and ceremony of imperial conferment is scheduled for Tuesday, May 15, 2018.
The Japanese constitution defines the awarding of honors as one of the constitutional functions of the Emperor. Honors comprise decorations and medals. In the latter honor, the Medal with Purple Ribbon was established in 1955 to recognize inventions and discoveries in scientific and technological fields, as well as outstanding achievements in academia, sports, culture and the arts.

Urine testing is aimed at the early detection of such renal/urinary tract diseases as renal insufficiency, kidney cancer, cystitis, and bladder cancer, and in targeting the location of abnormalities. Urine testing can involve visual inspection by clinical laboratory technologists using microscopes to classify and count formed elements in urine (such as red blood cells, white blood cells and bacteria). Visual inspection requires effort and time, and represents a major burden for clinical laboratory technologists.

This medal is being conferred for contributing to the advancement of healthcare through the development of an automated urinalysis analyzer using flow cytometry technology.

The automated urinalysis analyzer that marks this achievement provides a way beyond visual testing to classify and count formed elements in urine, automatically using flow cytometry technology. By shortening the amount of inspection time required from the conventional 15 minutes to a mere one minute, this analyzer dramatically improves testing efficiency, eases the burden on clinical laboratory technologists, and enhances testing precision.

The introduction of this automated urinalysis analyzer at healthcare facilities around the world is helping to enhance the efficiency and quality of healthcare. In addition, this technology is cited in the Hematuria Diagnosis Guidelines2 as one measurement method for counting formed elements present in urine, and is therefore contributing to the standardization of healthcare.
Overview of Medal Received
| | |
| --- | --- |
| Type of Medal of Honor: | Medal with Purple Ribbon |
| Recipient: | Junya Inoue, Clinical Innovation Division |
| Topic: | Development of an automated urinalysis analyzer using flow cytometry technology |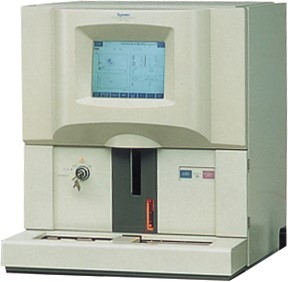 The world's first automated urinalysis analyzer to put flow cytometry technology to practical use
Fully Automated Urine Cell Analyzer UF-100 (launched in 1995)
Terminology
1
Flow cytometry technology:
Method involving the flow dispersion of minute particles and the use of laser light to optically analyze the minute flows. Used primarily to observe individual cells.

2

Hematuria Diagnosis Guidelines:
Five related associations, including the Japanese Urological Association and the Japanese Society of Nephrology, as well as a study group of the Ministry of Health, Labour and Welfare, have jointly drawn up these guidelines for use as a reference when diagnosing hematuria.

Information contained in the press release is current as of the date of the announcement,
but may be subject to change without prior notice.