Sysmex Corporation (HQ: Kobe, Japan; Chairman and CEO: Hisashi Ietsugu) will launch the automated high-sensitive immunoassay system for research applications HI-1000, with the aim of realizing personalized medicine through liquid biopsy. The HI-1000 measures with a high degree of sensitivity minute amounts of proteins contained in the blood and other bodily fluids. With this system, the Company aims to contribute to the development of new biomarkers for personalized medicine.
Liquid biopsy is used in the measurement and diagnosis of disease-derived substances (such as genes, proteins and cells) in blood, urine and other bodily fluids. As it requires the measurement of minute quantities of substances that have leaked from the disease focus into the blood and other bodily fluids, liquid biopsy requires substantially higher levels of sensitivity than the conventional approach of physical biopsy, which involves resecting a portion of tumor and other tissue.

The immunoassay, a technology for measuring proteins, is already used widely for immunochemistry testing in clinical laboratories, from diagnosing infectious disease, cancer and cardiovascular disease to monitoring their courses of treatment. In 2007, Sysmex launched the fully automated immunoassay system HISCL-2000i that uses chemiluminescence enzyme immunoassay (CLEIA) as a measurement principle. Through such efforts, we have been working to expand our lineup of systems and reagents to achieve higher levels of sensitivity and speed in immunochemistry testing.

The HI-1000 is a highly sensitive, fully automated immunoassay system for research use, which combines CLEIA with the immune complex transfer method1, achieving a high level of sensitivity by reducing background noise stemming from non-specific binding2. This method achieves sensitivity levels ranging from several tens to several thousands of times higher than conventional methods3, allowing proteins to be detected at levels of less than one pg4/mL. This sensitivity promotes R&D into the measurement of blood biomarkers in minute quantities that were difficult to measure in the past. Furthermore, customers can set the system to an environment appropriate to their target biomarkers, setting reaction time, temperature and multiple other parameters as they wish.

To encourage the development of new biomarkers called for by customers, we plan to develop reagents and set up various parameters necessary for measurement with the HI-1000, develop and produce reagent substances employing our recombinant protein production technologies, which are needed for developing reagents, perform outsource measurement using these developed reagents for accumulation of evidence, and offer various other services.

Going forward, Sysmex will continue working with customers to promote R&D into utilization of high-value biomarkers for realizing personalized medicine, thereby contributing to the development of healthcare.

Product Overview
| | |
| --- | --- |
| Name: | Automated High-sensitive Immunoassay System for Research Applications HI-1000 |
| Launch: | March 2018 |
Features

| | |
| --- | --- |
| ・ | Highly sensitive immune measurement system using immune complex transfer mechanism |
| ・ | Fully automated, from sample aspiration to the output of results |
| ・ | Allows for the setting of discretionary measurement protocols (liquid dispensing volumes, various reaction times and reaction temperatures) |
| ・ | Design concept: Employs Silent DesignTM, 5 |
Product Photo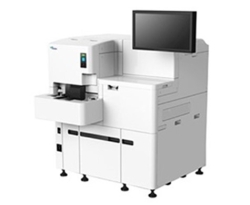 Automated High-sensitive Immunoassay System
for Research Applications HI-1000
Terminology
1
Immune complex transfer method:
After the immune complex (products of the antigen-antibody reaction) included on the object to be measured is formed onto beads or other carriers, the complex is disassociated from the surface of the carrier while retaining its shape. Next, the disassociated immune complex is captured by another carrier and measured. This approach curtails the background noise that non-specific binding causes, allowing highly sensitive measurement.

2
Non-specific binding:
Detection system using an antibody to react to antibodies on substances other than those targeted for detection. In immunoassay, a high amount of non-specific binding prevents higher levels of sensitivity. In particular, non-specific binding to the solid-phase surface (beads) of labeled antibodies is known to create background noise.

3
In comparison with the enzyme immunoassay method or chemiluminescence enzyme immunoassay (CLEIA). According to Sysmex's research, results vary depending on control methods and measurement parameters.

4
pg (picogram):
A picogram is equal to one trillionth of a gram.

5
Silent DesignTM:
The fusion of product design and technology, developed with the users and their workplace in mind. Simple, but with great attention to detail.
Information contained in the press release is current as of the date of the announcement,
but may be subject to change without prior notice.