Sysmex Corporation (HQ: Kobe, Japan; Chairman and CEO: Hisashi Ietsugu) has received a CLIA-waiver certification under the US regulatory approval system for the XW-100 automated hematology analyzer, its latest product in the hematology field targeting the US market.

This instrument is the first fully automated hematology analyzer to receive approval as a CLIA-waived product.
In the United States, facilities that conduct clinical testing must obtain approval under the Clinical Laboratory Improvement Amendment (CLIA).

Many small-scale medical institutions obtain CLIA waivers, a type of certification that enables them to perform simple clinical testing. Such facilities may only use clinical instruments and reagents that have obtained approval as CLIA-waived products from the US Food and Drug Administration (FDA).

For clinical instruments and reagents to obtain approval as CLIA-waived products, they must satisfy certain criteria so that simple testing can be performed by medical personnel who are not medical technologists. The criteria are: 1) operability does not require specialized knowledge, 2) measures are in place to prevent erroneous methods of operation, and 3) the tests do not have a serious effect on patients if performed incorrectly.

As the number of CLIA-waived facilities is increasing in the United States, the number of CLIA-waived products is growing. However, to date no CLIA-waived products have existed in the hematology field that allowed fully automated measurement of multiple parameters, such as red blood cells, white blood cells and platelets.

Sysmex has received approval the XW-100 as a CLIA-waived product—the first for a fully automated hematology analyzer—for the US market.

Leveraging Sysmex's accumulated knowhow in the development, design, service and support of hematology analyzers, this product features simple operability, an instrument monitor with two-way communication, and enhanced support functions.

By selling this product, Sysmex makes it possible for clinics, pharmacies and other CLIA-waived facilities to perform hematology testing. Different from outsourced testing, providing in-house testing allows test results to be provided swiftly to patients, which is expected to enhance healthcare services at target facilities.

This product is scheduled to launch in the US market from January 2018. Thereafter, we plan to accelerate our entry into the CLIA-waived market.

Going forward, Sysmex aims to reduce the burden on patients and enhance the quality of testing, as well as instilling its customers with confidence.

New Product Overview
| | |
| --- | --- |
| Name: | Automated Hematology Analyzer XW-100 |
| Launch: | Scheduled for January 2018 |
| Target market: | CLIA-waived market in the United States |
| Measurement time: | Approx. 148 seconds (until the next sample can be measured) |
Features

| | |
| --- | --- |
|  ・ | Acquired approval as the first CLIA-waived instrument among fully automated hematology analyzers |
|  ・ | With an aspirated blood volume of only 15 µL, provides testing results for 12 parameters, including red blood cells, white blood cells and platelets |
|  ・ | Easy-to-understand dialog-type operating display facilitates use by non-specialists |
|  ・ | Compact design, requiring only an A3-sized (11.7 x 16.5 in) space |



Product Photo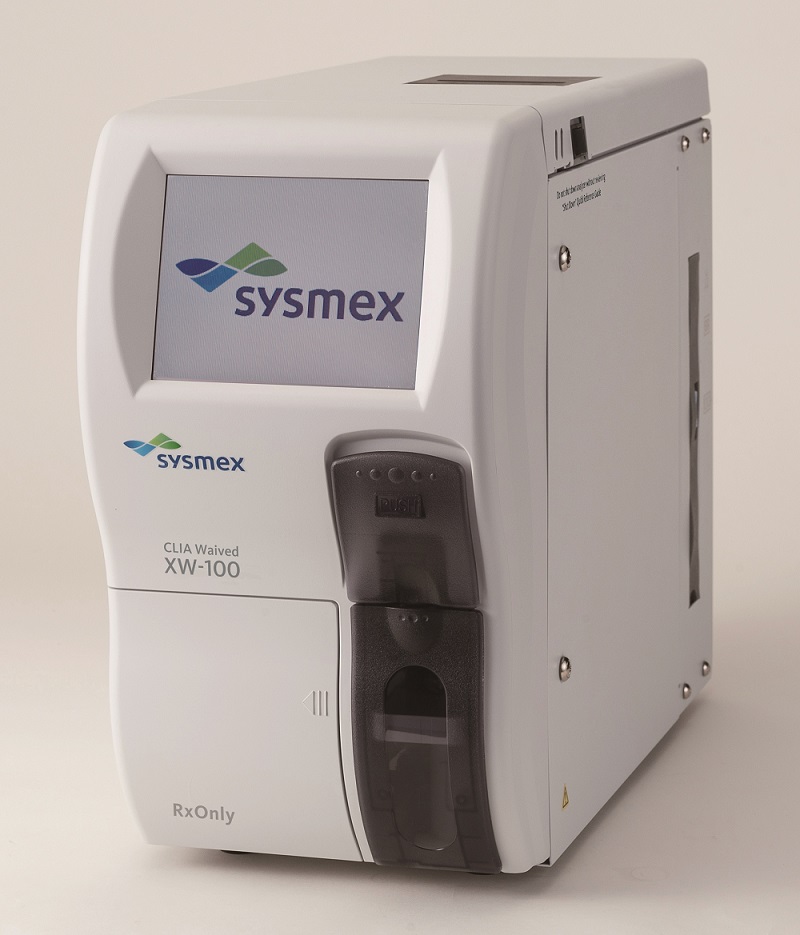 Information contained in the press release is current as of the date of the announcement,
but may be subject to change without prior notice.