Sysmex Corporation (HQ: Kobe, Japan; Chairman and CEO: Hisashi Ietsugu) has commenced sales in Japan of Revohem PT. This reagent is used for measuring prothrombin time (PT), a key testing parameter for monitoring anticoagulation therapy.1 This type of therapy is used in the treatment of thrombotic diseases, such as myocardial and cerebral infarction.

Revohem PT is the first Japanese PT reagent to receive manufacturing and marketing approval whose tissue factor—a main constituent—is produced using recombinant protein produced by silkworms.
The human body prevents blood loss through coagulation. Meanwhile, the body maintains a fine balance between coagulation to prevent blood from clotting too much and fibrinolysis, which dissolves clots. Upset of this balance can result in hemophilia and other diseases in which the blood does not clot, or thrombotic diseases, such as myocardial and cerebral infarction. In 2012, the world's leading cause of death2 was ischemic heart disease, with cerebral embolism the second. A thrombus is at the root of both diseases, and this situation is leading to an increase in anticoagulation therapy.

Prothrombin time (PT) is the principal parameter for thrombosis and hemostasis tests to monitor Warfarin and other drugs used in anticoagulation therapy.

Revohem PT, the reagent Sysmex has launched to measure prothrombin time, can be used in the CS-Series automated blood coagulation analyzer, the CA-Series automated blood coagulation analyzer, and the CA-101/104 semi-automated blood coagulation analyzer.

Conventional PT reagents use tissue factors—a main constituent—derived from animals (including rabbit brains and human placentas), and securing a stable supply of such ingredients is problematic. To address this situation, Sysmex has used its silkworm-baculovirus expression system,3 which applies recombinant protein to produce ingredients stably. Using recombinant protein and synthesized ingredients also reduces differences between lots, and produces reagents with superior solubility and post-dissolution stability.

Going forward, we plan to roll out our proprietary recombinant protein production technology to reagents for other testing parameters.

Sysmex aims to continue working to reduce the burden of testing on patients and help boost the quality of testing, while supporting its customers.


Product Overview
| | |
| --- | --- |
| Name: | Revohem PT |
| Target use: | Measurement of plasma prothrombin time (for monitoring of oral anticoagulant therapy and to assist in diagnosing various diseases stemming from abnormalities in the extrinsic coagulation function) |
| Target market: | Japan |
| Target facilities: | From clinics to large-scale hospitals |
| Launch: | August 2017 |
| NHI points: | 18 |
Product Photo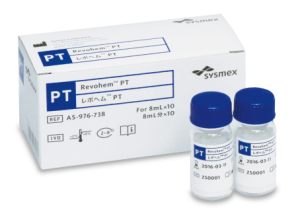 Terminology
1
Anticoagulation therapy:
A type of therapy that uses anticoagulants to reduce clotting of the blood in the heart, arteries and veins and prevent clotting during extracorporeal circulation.

2
Source: "The Top 10 Causes of Death" (WHO, 2014)

3
Silkworm-baculovirus expression system:
Baculovirus (nuclear polyhedrosis virus infecting, mainly through insect hosts) DNA is combined with a target gene, and this gene-recombinant baculovirus is then injected into silkworm larvae or pupae to produce the target protein. This approach makes it possible to produce large quantities of proteins, which are found only in minuscule amounts within cells.
Information contained in the press release is current as of the date of the announcement,
but may be subject to change without prior notice.