Sysmex Corporation (HQ: Kobe, Japan; Chairman and CEO: Hisashi Ietsugu) announces the expansion of Sysmex Reagents of America's reagent factory in the United States and the reinforcement of its reagent production system, in response to expected increases in demand in the Americas.
The Sysmex Group ensures a stable supply of reagents to its customers around the world by manufacturing reagents at two factories in Japan and seven factories in six countries overseas.

Sysmex has been responding to global increases in demand by reinforcing its reagent supply structure. In 2012, Sysmex expanded its production capacity at the Ono Factory, which manufactures reagents for Japan and some overseas markets, and at the Jinan Factory in China. We expanded the capacity of our reagent factory in Singapore in 2014 and in Germany in 2015.

In response to an expected increase in reagent demand and with the aim of ensuring stable reagent supply from a medium- to long-term perspective, Sysmex has also expanded Sysmex Reagents of America's reagent factory in the United States to 1.8 times its former production capacity. Sysmex Reagents of America, Inc. is a subsidiary of Sysmex America, Inc.

Conceptualized as a "smart factory delivering high levels of quality and efficiency" and "a factory that is friendly to people and the environment," this expansion goes beyond simply enlarging the production area. Rather, it incorporates comprehensive initiatives to reinforce the production system, including dramatic revisions within the factory of process layouts and manufacturing equipment.

To realize these concepts, the factory represents Sysmex's first initiative to incorporate the IoT in the manufacturing environment by linking a manufacturing execution system (MES*)—a type of production management system—with manufacturing equipment. One example is enhancing productivity and quality by using mobile devices to monitor and control manufacturing equipment. We have installed new equipment to lessen the load on workers and are simultaneously engaging in environmental initiatives, such as promoting paperless operations and reducing emissions that have an environmental impact.

Going forward, Sysmex will continue providing a stable supply of products around the world through a production system that is attuned to market environments of individual regions.

Reagent Factory Overview

| | |
| --- | --- |
| Location: | Mundelein, Illinois, United States |
| Total investment: | Approx. USD 24.15 million |
| Opening: | July 27, 2017 |
| Products to be manufactured: | Hematology and urinalysis reagents |
Photo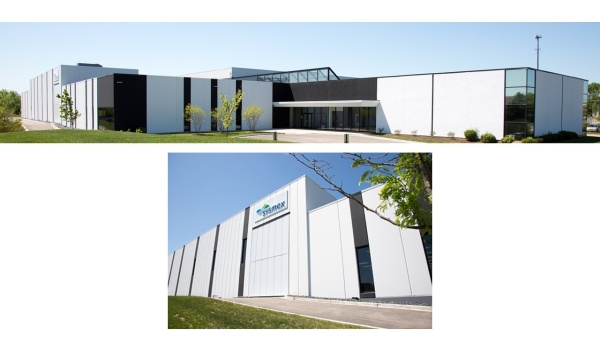 Terminology
* Manufacturing execution system (MES):
This system provides work process-related information in real time, including the status and quantities of factory equipment and raw materials, to formulate work schedules based on production plans and issue instructions to workers.
Information contained in the press release is current as of the date of the announcement,
but may be subject to change without prior notice.