Sysmex Corporation (HQ: Kobe, Japan; Chairman and CEO: Hisashi Ietsugu) was selected by the Japan Investor Relations Association (JIRA) to receive its 20th "IR Grand Prix Award." This is the fourth time Sysmex has received an award from JIRA, in fiscal 2004 (IR Award for Small to Medium Capitalization Companies), fiscal 2006 (Best IR Award) and fiscal 2011 (Best IR Award). This is the first time Sysmex has won the IR Grand Prix Award, for which companies become eligible after they have won the Best IR Award twice in the past.
JIRA's Annual IR Grand Prix is aimed at furthering the understanding of investor relations and selecting for awards those companies that are proactive in their activities and have earned strong support from market participants. In fiscal 2015, 263 companies participated, and based on their questionnaire submissions and evaluation by a judging panel, two companies were selected to receive the IR Grand Prix Award, five for the Best IR Award, three for the IR Special Award and three for the IR Award for Small to Medium Capitalization Companies.
The reasons cited for selecting Sysmex are described below.

■Reasons for Selecting Sysmex:
The company has maintained a high level of IR over a long period, befitting the Grand Prix. Management transparency is high, and the status of research and development is easy to understand.
Top management explains management strategies and medium-term management plans from an investor perspective and creates opportunities for dialogue. The IR Department strives to disclose easy-to-understand information and takes investor feedback into account.
The company earns high marks for its presentation materials, as well as its meetings, factory visits, and tours of overseas facilities. The company also conducts briefings for individual investors and provides extensive materials on its website.

Going forward, as part of its efforts to enhance corporate value Sysmex will continue to promote IR activities in accordance with its basic policy of disclosing information fairly, quickly, accurately and in an easy-to-understand manner, conducting bilateral communications with its shareholders and investors.

Note: Please see the Japan Investor Relations Association website for details.
(https://www.jira.or.jp/english/index.html)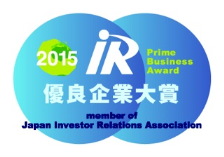 Information contained in the press release is current as of the date of the announcement,
but may be subject to change without prior notice.