Sysmex Corporation (HQ: Kobe, Japan; Chairman and CEO: Hisashi Ietsugu) plans to establish a new open innovation lab to accelerate R&D activities toward the realization of personalized medicine. The new lab will be located at Technopark (Nishi-ku, Kobe), Sysmex's hub for R&D.
Within the healthcare domain, Sysmex is focused on the creation of leading-edge, high-value testing and diagnostic technologies centered on in vitro diagnostics. In September 2013, Sysmex entered into a comprehensive collaboration agreement with the National Cancer Center Japan to develop new
in vitro
diagnostic reagents. Furthermore, Sysmex subsidiary Sysmex Inostics signed an agreement in October 2013 with Bayer HealthCare and in June 2014 with Merck Serono, to jointly develop blood-based companion diagnostic drugs for targeted tumors. As these moves indicate, in addition to its own research Sysmex is promoting collaborative R&D with research institutions, universities and medical institutions in Japan and overseas.
To accelerate R&D activities toward the realization of personalized medicine, Sysmex is now planning to establish an open innovation lab at Technopark, its R&D hub.
In addition to employing Sysmex's proprietary technologies, the new lab will be equipped with ICT-related equipment to promote bioinformatics*, highly functional, high-performance testing equipment and an environment fostering open innovation to increase collaboration. Through interaction among researchers, Sysmex aims to promote the merging of ideas.
Going forward, Sysmex will solicit participation from researchers around the world. By fostering open innovation through collaboration with researchers in Japan and overseas, we aim to create advanced, highly valuable testing and diagnostic technologies.


Overview of the Lab
Name:
Sysmex Open Innovation Lab (SOLA)
Aim of operations:
Research and development on new technology platforms and applications aimed at realizing personalized medicine
Facilities:
Lab area, office area, collaboration area, etc.
Floor space:
Approx. 1,950 ㎡
Start of operations:
October 2015
Related Link
Open innovation:
http://www.sysmex.co.jp/en/rd/open-innovation/index.html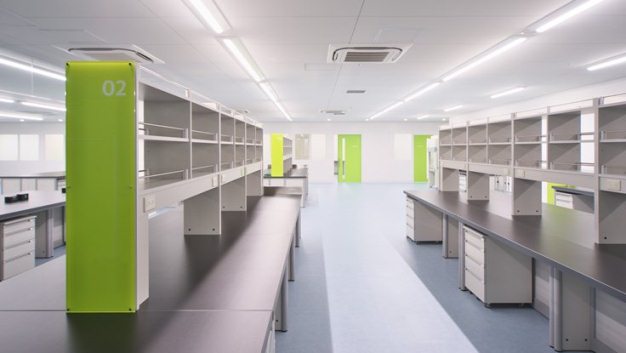 Inside the lab
*Bioinformatics

:

Information technology used to analyze genetic and protein information and explain vital phenomena; in particular, technology for analyzing the relationships between genetic information and disease.
Information contained in the press release is current as of the date of the announcement,
but may be subject to change without prior notice.