Sysmex Corporation (HQ: Kobe, Japan; Chairman and CEO: Hisashi Ietsugu) is launching its new products in the sediment urinalysis testing field, the UF-5000/4000/3000 fully automated analyzers of formed elements in urine. The instruments will be rolled out successively on a global scale, beginning with the Japanese market in September 2015.
Urine testing is divided into urine chemistry, a primary test employing urine test paper, and urine sediment analysis, secondary testing to provide a more detailed analysis of specimens that have been determined to be abnormal during urine chemistry. Urine sediment analysis is an important test used in diagnosing renal disease and urinary tract disorders. Clinical laboratory technologists use microscopes to observe (microscope testing), classify and measure formed elements in the urine, including red blood cells, white blood cells and bacteria. In 1995, with the UF-100 Sysmex realized, the ability to perform automated quantitative analysis of formed elements in the urine by using the flow cytometry method. In 2006, we launched a follow-up analyzer, the UF-1000i, contributing to the efficiency and standardization of urine sediment analysis.
The UF-5000/4000/3000 fully automated analyzers of formed elements in urine are currently being launched by Sysmex as next-generation models of the UF-1000i, which has earned strong support throughout the world. The new models employ blue lasers and other technologies to improve precision and fraction1 and can be used for testing urine and other bodily fluids.
The modular concept2 is employed to flexibly enable instruments to be added as the number of specimens grows. This concept also allows for future linkage with urine chemistry analyzers and for transport connections among multiple devices at large-scale facilities.
Designed to optimize customer usability, the models employ the "Silent Design®3" concept and have simple operating panels. Some RFID4 cassette-type reagents are used to simplify reagent management and replacement.
To contribute to customer operating efficiency, the models are provided in combination with the Urinalysis Work Area Information Management System (U-WAM), which enables urinalysis departments to centrally manage test results.
By continuing to provide valuable products in the urinalysis field going forward, Sysmex aims to establish a leading global position in this field of testing.


New Product Overview
Name:
UF-5000/4000/3000 fully automated analyzers of formed elements in urine
Launch:
Japan: September 1, 2015 (overseas: to be launched successively in individual countries after receiving regulatory approval)
Processing capacity, target markets:
UF-5000

UF-4000

UF-3000

Processing capacity

105 tests/hour

80 tests/hour

105 tests/hour

Parameters measured
(Urine)

14
Note: Differs by region

14
Note: Differs by region

5

Parameters measured
(Other bodily fluids)

4
Note: Differs by region

4
Note: Differs by region

2
Note: Differs by region

Target markets (expected)

All regions

EMEA5, China,
Asia Pacific

Americas, China
Related products:Urinalysis Work Area Information Management System (U-WAM)
Features
・ Modular concept
・ "Silent Design®" concept
・ Reagent management function
・ Uses environmentally-friendly reagents
・ SNCS®6 functionality employed as standard

Product Photos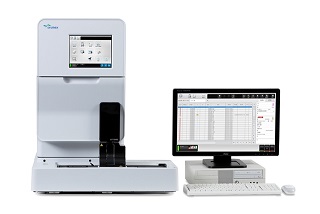 UF-5000 fully automated analyzer of formed
elements in urine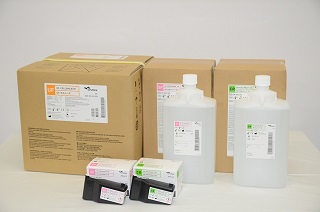 Reagents
Terminology
1 Fraction:

This feature enables individual viewing of each of the multiple formed elements in specimens.

2 Modular concept:
Individual modules can be combined to create a diverse variety of product configurations. The series also allows for flexibility in testing throughput, increasing or reducing capacity in line with customer needs.
3 Silent Design®:
This design concept represents a fusion of product design and technology that takes into account users and the working space available at their laboratories. Although simple, the concept pays careful attention to detail and is employed for entire systems and designed for a long product life.
4 RFID:
Using wireless communications, this automatic recognition system is used to call up data from media, as well as to register, delete and update information.
5 EMEA:
Europe, the Middle East and Africa
6 SNCS®:

An abbreviation for Sysmex Network Communication Systems, SNCS® is an online support service that connects to the Sysmex Customer Support Center and customers' instruments via the Internet to provide real-time external quality control and scientific information and monitor instrument conditions. The content of support services varies by region. A separate (paid) agreement is required to use this service.
Information contained in the press release is current as of the date of the announcement,
but may be subject to change without prior notice.