Sysmex Corporation (HQ: Kobe, Japan; Chairman and CEO: Hisashi Ietsugu) has expanded its reagent factory in Germany and reinforced its reagent production structure to meet expected increases in demand for reagents in EMEA (Europe, the Middle East and Africa).
To provide a stable supply of products to its customers worldwide, Sysmex Group operates two reagent factories in Japan, as well as seven overseas reagent factories.
In 2012, Sysmex responded to a sharp increase in demand in the Chinese market by enhancing its reagent production facility in Jinan, approximately quintupling its capacity. In the same year, the Company also increased producing capacity by around 50% at its Ono Factory, which produces reagents for sale in Japan and some overseas regions.
In 2014, we expanded producing capacity of our reagent factory in Singapore around up to 3 times in response to rising Asian demand. In these ways, Sysmex has strengthened its global structure to provide reagents.
To provide a stable supply of reagents in response to expected increases in demand in EMEA, Sysmex has expanded its reagent factory in Germany, raising its capacity by around 50%. The extension features an optimized floor layout to enhance product quality and boost production efficiency.
The factory is eco-friendly and includes environmental equipment to meet Germany's stringent environmental regulations, including an ice thermal storage system*. This thermal-storage air conditioning system uses natural energy, taking advantage of seasonal differences.
Going forward, Sysmex plans to accelerate development of its production system to meet local market environments and growth to ensure a steady supply of products to customers throughout the world.

Reagent Factory Overview
Location:
Schleswig-Holstein, Germany
Total investment:
Approximately 13,000,000 EUR
Operational start:
July 2015
Products to be manufactured:
Hematology reagents, urinalysis reagents, etc.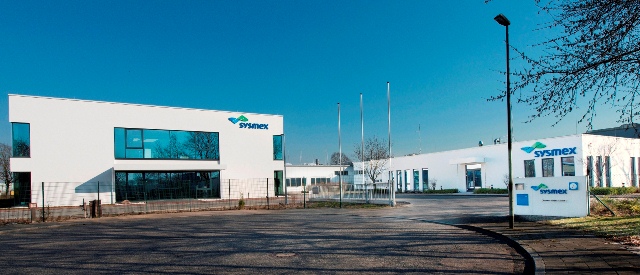 Reagent factory in Germany
| | |
| --- | --- |
| *Ice thermal storage system: | With this type of system, ice produced in the ground in winter is used in the summer for cooling. In winter, geothermal water, which is warmer than the ambient air, is used to supply heat. |
Information contained in the press release is current as of the date of the announcement,
but may be subject to change without prior notice.