Sysmex Corporation (HQ: Kobe, Japan; Chairman and CEO: Hisashi Ietsugu) is launching a new product in the cytoscreening field, the LC-1000 exfoliative cell analyzer.
Commencing with sales to medical institutions in Japan, China and other countries, in the future Sysmex plans to verify clinical utility by providing diagnosis support for cervical cancer screening.
Cervical cancer is a type of cancer arising from uterine cervix as a result of human papillomavirus (HPV) infection. The incidences of cervical cancer were estimated at approximately 12,000 cases in Japan (2014 estimate1) and 500,000 cases in the world (2012 estimate2), and is particularly pronounced in developing countries.
Gynecological exams play an important role in the early detection of cervical cancer. However, the screening rates are lower in Japan than in other developed countries. To encourage more people to undergo this testing, Japanese local government bodies have adopted such approaches as distributing coupons that allow people to undergo testing free of charge.
Under conventional testing, cell samples are typically taken from the uterine cervix and examined under a microscope by specialized cytologists. The problem with this approach is the significant burden it places on cytologists. As the number of people undergoing the testing rises and the role of testing increases, the burden on cytologists is expected to grow.
The new LC-1000 exfoliative cell analyzer seeks to address this situation by applying Sysmex's flow cytometry3 technology.
This product is used to measure and analyze the size of individual cells, the size of their nuclei and their nuclear DNA amount. The LC-1000 thus enables the measurement and analysis of increases in nuclear DNA amount with high correlation, which leads to sophisticated determination of the state of cell proliferation.
The LC-1000 thereby increases the quality of testing by providing added clinical value not previously available in cytology, in addition to reducing the burden on cytologists and standardizing testing.
Initially, sales will target medical institutions in Japan, China and other countries. Sysmex will also verify the product's clinical utility in order to provide diagnosis support for future cervical cancer screening tests.
Going forward, Sysmex intends to continue pursuing a host of innovative technological developments, including the further development of technologies for cell measurement and diagnosis. At the same time, the Company will vigorously pursue the verification of clinical utility through collaboration with research institutes and medical institutions in Japan and other countries. As a result, we aim to realize better testing efficiency, enhanced precision and standardization, thereby contributing to the advancement of healthcare.


New Product Overview

Generic name:

Flow Cytometer

Name:

LC-1000 Exfoliative Cell Analyzer

Target markets:
Scheduled for gradual rollout beginning in Japan and China
Launch:
November, 2014
Processing capacity:
Up to 20 tests/hour
Function:
Cell dispersion, reduction of coexisting material such as hematocyte or cell debris, nuclear DNA staining, and obtaining and analyzing information corresponding to the sizes of cells and nuclei and nuclear DNA amount
Product Photo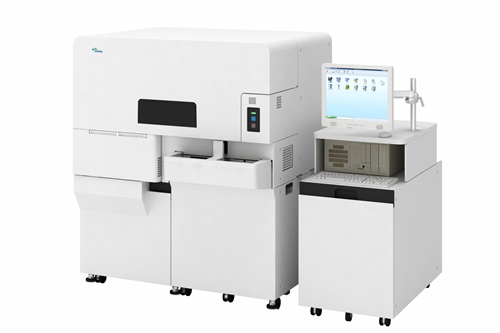 LC-1000 Exfoliative Cell Analyzer
1 Source:

Center for Cancer Control and Information Services, National Cancer Center (2014 estimate)
2 Source:

GLOBOCAN 2012
3 Flowcytometry:

Method involving the flow dispersion of minute particles and the use of laser light to optically analyze the minute flows. Used primarily to measure individual cells.
Information contained in the press release is current as of the date of the announcement,
but may be subject to change without prior notice.