Sysmex Corporation (HQ: Kobe, Japan; Chairman and CEO: Hisashi Ietsugu) is launching new Automated Blood Coagulation Analyzer models for the hemostasis field, the CS-2400/2500.
In the past, hemostasis was primarily used in the testing of hemorrhagic tendency to determine hemorrhagic disorders, such as hemophilia. In recent years, however, changing eating habits have led to an increase in lifestyle diseases, and the prevalence of vascular diseases has risen in line with the aging of the population. Such factors have led to a greater number of thrombotic diseases, such as myocardial and cerebral infarction. Correct eating habits and the use of platelet inhibitors and anticoagulation agents can be important to the control of thrombotic diseases. This situation has led to an increasing need for high-quality testing to determine thrombotic tendency and for health monitoring.
Reflecting this environment, the global market for hemostasis has grown. In the future, the rate of growth is expected to be particularly high in China and other emerging markets that are enjoying rapid economic expansion.
In 1995, Sysmex entered into a distribution agreement with Siemens Healthcare Diagnostics Inc., which has a leading share of the global market for hemostasis reagents. The two companies supply each other's instruments and reagents globally, maintaining the top global market share in the hemostasis field.
In 2006, Sysmex introduced the Automated Coagulation Blood Analyzer CS-2000i/2100i, the first in the world to employ the multi-wavelength transmitted light detection system. In 2011 we launched a high-end automated blood coagulation analyzer, the CS-5100, enhancing our lineup of hemostasis instruments and reagents and meeting customer demand by providing solutions including support services. In these ways, Sysmex has progressed with the global introduction of the CS-Series.
Automated Blood Coagulation Analyzers CS-2400/2500 are desktop models that maintain the capabilities of the CS-5100, the top-end model in the CS-Series launched in 2011. At the same time, additional functionality improvements enable greater usability, and new analytical functions and other functions lead to increased clinical and diagnostic value.
Starting with a launch in Japan, Sysmex will move toward a global launch that includes regions where demand is expected to grow, such as in China and other emerging markets. Sysmex and Siemens Healthcare Diagnostics will leverage their global networks to respond to broad-based customer needs in the hemostasis field that are becoming increasingly diverse and sophisticated. As a result, we aim to contribute to diagnosis and health monitoring by offering highly reliable test results.
Going forward, Sysmex aims to continue reducing the burden on patients and enhancing their quality of life, as well as instilling its customers with confidence.

New Product Overview


Name:

Automated Blood Coagulation Analyzer CS-2400*
Automated Blood Coagulation Analyzer CS-2500*

Target market:

All regions

Launch:
Japan: October 1, 2014 (Outside Japan: to be launched successively in individual countries after receiving approval)
Processing capacity:
Up to 180 tests/hour

*

The CS-2400 is a model that measures samples after the caps of blood collection tubes have been opened; the CS-2500 is a cap-piercing model that measures samples while the caps of blood collection tubes remain closed.


Testing Parameters *

Coagulation:

PT, APTT, Fbg, TTO, HpT, coagulation factors (8 parameters)

Chromogenic substrate:
AT, PLGm, α2PI, PC, coagulation factor number XIII
Turbidimetric immunoassay:
D-Dimer, FDP, PIC, FM, VWF:Ag
Agglutination:
VWF:RCo
*available at the launch in Japan
Features
High-performance desktop models that maintain the capabilities of the top-end model in the CS-Series, the Automated Blood Coagulation Analyzer CS-5100, realizing data compatibility and common operability
Employs the multi-wavelength transmitted light detection method, the core technology of the CS-Series, ensuring the high reliability of reported data by switching wavelengths and checking sample integrity (hemolysis, lipemia, icterus)
Enables random measurement on multiple channels according to four principles: coagulation, chromogenic substrate, turbidimetric immunoassay and agglutination
Cross-mixing function supports efficient cross-mixing testing operations by automatically mixing samples requiring cumbersome operation with normal blood plasma
24-hour reagent cooling allows testing to be performed at any time
The use of clot waveform analysis (for research) enables a detailed analysis of clot waveforms generated during measurement of PT, APTT and other coagulation parameters, allowing the provision of information of clinical value, such as that for determining the severity of hemophilia
Product Photo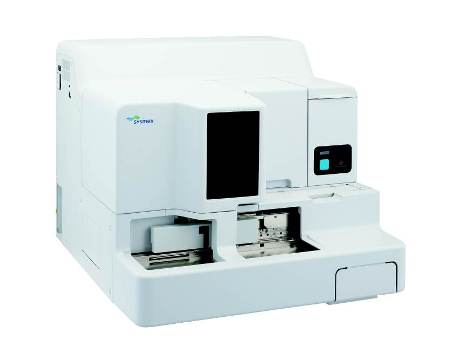 Automated Blood Coagulation Analyzer CS-2400/2500
Information contained in the press release is current as of the date of the announcement,
but may be subject to change without prior notice.