Sysmex Corporation (HQ: Kobe, Japan; Chairman and CEO: Hisashi Ietsugu) has opened i-Square, a new instrument factory located in the city of Kakogawa, Hyogo Prefecture.
Aimed at meeting growing global demand for in-vitro diagnostic (IVD) instruments, through this factory and the expansion of factories at two affiliated companies, the Sysmex Group will increase production capacity in stages-to triple the previous level.
Sysmex leverages its advanced "made in Japan" technological capabilities to create innovative production systems that manufacture IVD instruments at the Kakogawa Factory-the Group's core instrument manufacturing facility-and affiliated companies Sysmex RA Co., Ltd. (HQ: Shiojiri, Nagano Prefecture, Japan) and Sysmex Medica Co., Ltd. (HQ: Himeji, Hyogo Prefecture, Japan). From here, instruments are shipped to customers in more than 170 countries throughout the world.
Sysmex has established a new instrument factory, i-Square, in the city of Kakogawa, Hyogo Prefecture, to meet anticipated further increases in global demand for IVD instruments.
We have also completed expansions at factories of Sysmex RA and Sysmex Medica. These two, with the new i-Square factory and the existing Kakogawa Factory, will enable the Group to shift toward full-scale operations at four factories. Going forward, the Sysmex Group will gradually triple its IVD instrument production capacity.
i-Square will serve as the Sysmex Group's core instrument factory, manufacturing high-end models efficiently. In addition, the new factory will support each of the others and lead reinforcement initiatives to enhance the Group's overall instrument manufacturing technologies.
To respond to the needs of customers throughout the world in a timely manner, the new factory is also equipped with a warehousing function. Container packaging and customs procedures can all be handled in an integrated manner, facilitating export through the Port of Kobe and ensuring increasingly efficient logistics.
To reduce environmental impact, eco-materials are used in the factory. i-Square also employs an energy-saving design and uses solar panels.
A seismically isolated structure is used to protect the manufacturing infrastructure and warehouse, enabling us to continue supplying products to customers.
Going forward, Sysmex plans to continue contributing to health by providing its customers throughout the world with high-quality, high-value-added products in a stable manner and with a "made-in-Japan" cachet.
Overview of i-Square
Location:

262-11 Mizuashi, Noguchi-cho, Kakogawa, Hyogo Prefecture

Name:

i-Square

Total area:
Approximately 30,000 square meters
Start of operations:
June 2014
Bird's-eye view of i-Square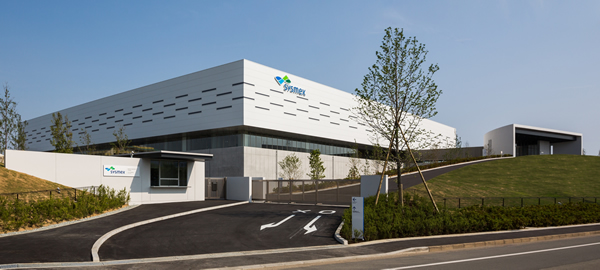 Information contained in the press release is current as of the date of the announcement,
but may be subject to change without prior notice.