Sysmex Corporation (HQ: Kobe, Japan; President and CEO: Hisashi Ietsugu) announces the sales launch in Japan of the Automated Immunoassay System HISCL-5000, a new model in the field of immunochemistry testing. The HISCL-5000 begins delivering rapid test results - in 17 minutes from the start of testing, which contributes to pre-treatment testing and meets a variety of laboratory demands, including the need to improve efficiency.
As a way of measuring proteins and other substances in the blood, immunochemistry testing has a wide range of applications, from the diagnosis of infectious diseases, cancers and heart diseases to their courses of treatment. As such, immunochemistry testing plays an essential role in the early detection of diseases and determination of therapeutic effects.
In 2007, Sysmex introduced the HISCL-2000i fully automated immunochemistry analyzer, which employs chemiluminescence enzyme immunoassay (CLEIA) methodology. The HISCL-2000i has earned a solid reputation for its ability to perform continuous measurement1 rapidly and with a high degree of sensitivity, requiring only minute samples. In addition to diagnostic markers for hepatitis, infectious disease and cancers, in 2012 we added the ability to test for diagnostic markers of HIV, lung cancer and cardiac insufficiency.
By launching the Automated Immunoassay System HISCL-5000, Sysmex is focusing on mid-range and high-end facilities that are working to enhance patient services and make their laboratories more efficient and provide higher added value. The new model offers the functionality and high speeds necessary to achieve these aims. Key features of the HISCL-5000 are the fact that it requires only minute samples, is highly sensitive, and begins delivering testing results on an ongoing basis after only 17 minutes. Furthermore, the HISCL-5000 enables the simultaneous measurement of up to 24 parameters and offers flexible connectivity to transport systems. The model consequently responds to diverse laboratory needs and contributes to enhanced testing efficiency. The SNCS2 functionality that is a feature of Sysmex's support services is provided as standard on the HISCL-5000. Connection to SNCS allows online monitoring of operating conditions by analyzing sensors mounted on the instrument's components.
Going forward, Sysmex will concentrate on the development of biomarkers that help to determine treatment regimens for patients with chronic conditions and those with characteristics related to prognosis monitors and other diagnostic aids. In addition to Japan, the Company intends to gradually roll out the HISCL Series into the expanding Asian market.
Sysmex aims to reduce the burden of testing on patients and help boost the quality of testing, while reassuring its customers.
New Product Overview
Name:
Automated Immunoassay System HISCL-5000
HISCL is an acronym combining the first letters of "high sensitivity" and "CLEIA," which refers to chemiluminescence enzyme immunoassay.
Launch:
December 2012
Target market:
Japan (to be extended to China and the AP region in or after 2013)
Target facilities:
Medium - to large-scale facilities
Processing capacity:
200 tests per hour
Testing Parameters
HBsAg, Anti-HBs, Anti-HBc, HBeAg, Anti-HBe, Anti-HCV, Anti-TP, Anti-HTLV-1, Anti-HIV, HIV Ag/Ab, AFP, CEA, PSA, CA19-9, CA125, ProGRP, TAT, PIC, TM, tPAI/c, ferritin, insulin, TSH, FT3, FT4, NT-proBNP (as of December 2012)
Features
・ Results are delivered in 17 minutes from the start of measurement
・ Parameters simultaneously measured: Up to 24
・ Transport connection: Standard
・ Reagent ID management: Uses RFID
・ Continuous measurement
・ SNCS functionality: Standard
・ 24-hour reagent cooling enables 24-hour testing
・ Employs the Silent Design® concept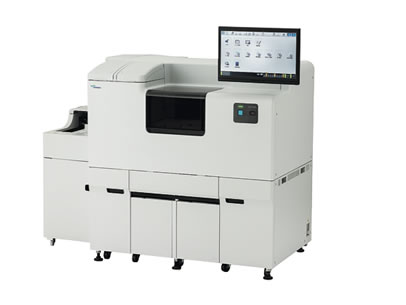 HISCL-5000
Notes:
1
Measurement is conducted continuously, without interruptions to reagent supply.
2
An abbreviation for Sysmex Network Communication Systems, the SNCS® is an online support service that connects the Customer Support Center and customers' products via an internet connection to provide real-time external quality control and scientific information and to monitor instrument conditions. The content of support services vary by region. A separate (paid) agreement is needed to use this service.
Information contained in the press release is current as of the date of the announcement,
but may be subject to change without prior notice.