Sysmex Corporation (HQ: Kobe, Japan; President and CEO: Hisashi Ietsugu) is expanding the headquarters of Sysmex America, Inc., its regional headquarters for the Americas, located in the Chicago area. The new office will support the infrastructure that the company's continued market share growth requires and accommodate future expansion.
Sysmex first established a subsidiary in the United States in 1979, and in 2003 began providing direct sales and support as Sysmex America, Inc. (SAI). The company's business in the United States—the world's largest market for in vitro diagnostics—has grown steadily. In 2010, SAI was selected as the sole hematology vendor by one of the largest commercial laboratories in the United States, greatly enhancing Sysmex's presence in the United States. Furthermore, according to a survey1 of customers conducted by a U.S.-based survey company, Sysmex has been the leader in customer satisfaction for many years. This is a result of strategic initiatives including development of advanced technology, highly reliable products and market-leading support services.
Since commencing direct sales and support in 2003, SAI has functioned as Sysmex's regional headquarters for the Americas, including Central and South America, the Caribbean, and Canada, from its location in Mundelein, Illinois. In recent years, SAI has expanded its sales force, increased staffing and strengthened infrastructure in response to market growth and in order to realize its strategy for achieving future growth. To increase the pace of growth further, Sysmex has now expanded and upgraded the company's headquarters with a significantly larger, state-of-the-art LEEDS certified facility including an advanced, customer-facing data center.
Located nearby its previous office, SAI's new office is in Lincolnshire, Illinois, providing quick access to Chicago's O'Hare International Airport. The new office has ample space to allow for future expansion and is a central transportation location for shipping its reagents and instruments to its customers. SAI will continue to use the Mundelein campus for customer training on products and for reagent production.
The expansion includes a new multipurpose building that houses the company's virtual training studio. The virtual training initiative provides customers with convenient, on line, instructor-led education on the use of Sysmex products to better meet the needs of North American customers, who are spread over an extensive area. This virtual training complements the company's initiative to provide an extensive range of on-line, support services with 24/7 availability2. This addresses the needs of their customers to contain costs while expanding and improving the quality of healthcare services.
Going forward, Sysmex Corporation plans to strengthen its sales and support structure globally, thereby contributing to the advancement of healthcare.
| | |
| --- | --- |
| 1 | According to a well-respected survey organization (IMV ServiceTrak™), users of hematology analyzers have ranked Sysmex top in reliability and instrument performance that meets customer expectations for 13 consecutive years. |
| 2 | Sysmex Network Communication Systems (SNCS) is a network support service that makes use of information technology to monitor the performance of customers' analyzers in real time. Available throughout the world, SNCS is being used by numerous customers, who rate the service highly. |
[Overview of New Office]
Location:
Lincolnshire, Illinois, United States
Representative:
John Kershaw
Grand opening:
September 13, 2012
Site areas:
Approx. 15,000 m2
Employees:
Approx. 700 (as of July 2012)
New office building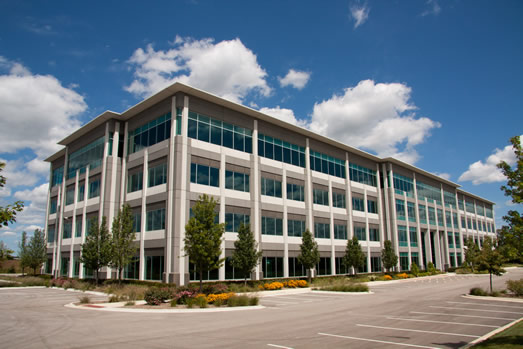 Information contained in the press release is current as of the date of the announcement,
but may be subject to change without prior notice.