Sysmex Corporation (HQ: Kobe, Japan; President and CEO: Hisashi Ietsugu) is launching its new XP-Series, a compact model in its mainstay hematology field capable of measuring three types of white blood cell, on a global scale. Through its new XP-Series lineup, Sysmex aims to enhance its ability to propose solutions in response to various customer needs. By leveraging its unique advantages going forward, the Company aims to provide new value, thereby taking the undisputed leadership position in the global hematology market.
 In recent years, emerging markets have notably driven global economic growth. As economic expansion has sparked a growing focus on the health and medical care of their citizens, demand for testing has risen as countries in emerging markets enhance their healthcare infrastructures. In advanced countries, healthcare needs have grown more diverse against a backdrop of increasingly sophisticated medical technologies, response to the needs of graying society and a growing emphasis on preventive medicine.
Since its establishment, Sysmex's core business has focused on the field of hematology, which involves analyzing red blood cells, white blood cells, platelets and other blood components. Hematology testing provides a basis for medical diagnosis and is broadly used by small-scale institutions, including clinicians and small and medium-sized hospitals, as well as university hospitals and other large-scale institutions. Sysmex meets the diverse needs of its customers by offering a full lineup of products, ranging from compact models for small and medium-sized institutions to high-end models for large-scale facilities. In the process, the Company has grown to become the global market leader in the hematology field.
Our new XP-Series of analyzers carries forward the high degree of trust the Company has earned through previous products in a new model designed specifically to meet growing emerging market demand. Employing Silent Design®1, the consistent design concept that Sysmex deploys throughout its instruments, the XP-Series uses color touch panels for easy operation and records an increased number of tests (approximately 100 times that of previous models), raising operability and customer convenience to a new level. The series is also equipped with SNCS®2 functionality, a Sysmex after-sales service feature. SNCS® is a service that supports instrument operational stability through network-based precision management3 and repair support. By providing total solutions spanning instruments and reagents to after-sales service, Sysmex is helping to build a testing environment that instills confidence in its customers.
Going forward, Sysmex will leverage its proprietary technologies to provide new products and services that meet growing demand for testing in various parts of the world, as well as increasingly diverse testing needs, thereby contributing to advances in healthcare.
New Product Overview
Name:
XP-Series multiparameter automated hematology analyzers
Target market:
All regions
Launch:
May 2012 (sales to commence by country, as approved)
Systems:
- XP-300 (records 40,000 samples)
- XP-100 (records 35,000 samples), sold in markets outside Japan
Features:
- Online service availability
- Hand-held bar code compatibility
- Multi-language software (Japanese, English, Spanish, Portuguese,
Russian, Chinese, German, Italian, French, Indonesian)
- Employs new "Silent Design®" concept
- Processing capacity: 60 samples per hour
- Parameters: 20, including three types of white blood cell
Product Models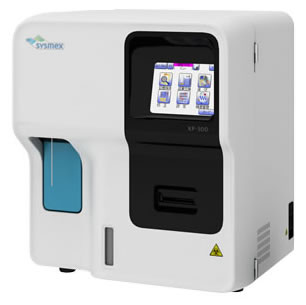 XP-300
Notes:
1
Silent Design® is the fusion of product design and technology, developed with the users and their workplace in mind.
2
An abbreviation for Sysmex Network Communication Systems, the SNCS® is an online support service that connects the Customer Support Center and customers' products via an internet connection to provide real-time external quality control and scientific information and to monitor instrument conditions. Note that support service content varies by region and involves separate agreements (paid).
3
A management method used to guarantee the values measured by testing equipment. Confirmation that the customer's testing equipment is functioning correctly.
Information contained in the press release is current as of the date of the announcement,
but may be subject to change without prior notice.