Sysmex Corporation (HQ: Kobe, Japan; President: Hisashi Ietsugu) has decided to establish protein production center in Nishi-ku, Kobe to strengthen its protein production service business. The new center involves an investment of approximately ¥500 million and will commence production in October 2012.
The healthcare market is growing, due to aging populations and increasingly diverse medical needs in developed countries, coupled with efforts in emerging markets to expand their healthcare infrastructures in line with economic development. Furthermore, in accordance with technological breakthroughs in the medical field and growing interest in personalized medicine, demand for antibody drugs and other biotechnology-based drugs has risen in recent years. The size of the domestic market for proteins used in drug development and testing is currently estimated at ¥10 billion, with demand projected to increase.
On April 1, 2011, Sysmex received a transfer from Katakura Industries Co., Ltd., of its Research Institute of Biological Science. Through the institute, we have developed and produced ingredients for diagnostic reagents in non-hematology fields, and employed gene recombination technology for producing proteins from silkworms, some of which have been supplied to pharmaceutical companies for drug development and testing.
To strengthen its protein production service business, Sysmex is adding a dedicated new production line to increase production capacity using gene recombinant technology for producing proteins from silkworms. As a result, we expect to boost production capacity to 3.5 times the current level, allowing the production of more than 1,000 types of proteins a year and enabling mass production.
This service involves the use of gene recombinant technology using silkworms to provide complex proteins consistently in a short period of time to the drug discovery research departments of pharmaceutical companies. In addition, the service employs a new mechanism for confirming protein function before an order is placed, thereby ensuring to a high degree of accuracy the proteins that customers want.
By offering consulting that takes advantage of the Company's high degree of specialization involving proteins should allow us to provide more customers with many and varied proteins, thereby contributing to faster drug development and more efficient development processes.
Going forward, we intend to expand our business globally. In addition to providing proteins for drug development and testing, we aim to contribute to new drug development in the pharmaceutical market by providing customers with proteins for clinical tests, ingredient proteins for biotechnology-based drugs, and protein analysis data.
[Overview of the Protein Production Service]
Name:
ProCube
Target market:
Japan
Sales target:
¥300 million (fiscal year ending March 31, 2013)
Features:
Orders accepted after protein function confirmed from provided sample Production of multiple types and large volumes possible
Service flow: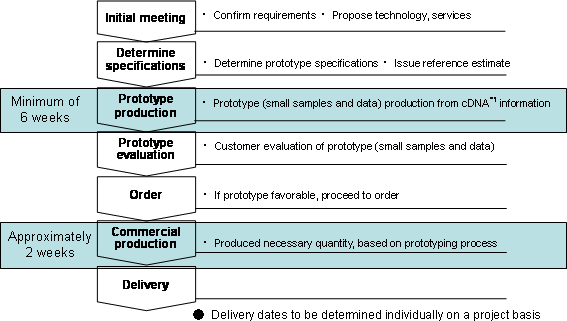 Please refer to the site below for details.
http://procube.sysmex.co.jp/eng/
[Overview of the protein production center]
Location:
Nishi-ku, Kobe (Seishin Minami)
Floor area:
Approximately 1,100 m2
Employees:
20 (Projected)
Production capacity:
More than 1,000 types/year
Total investment:
Approximately ¥500 million
Start of operations:
October 2012 (Planned)
Other:
Compliant with Bio Safety Level2 2 (BSL-2)
[Terminology]
1:
cDNA
A contraction for complementary DNA. Using mRNA as a base sequence and DNA having a complementary sequence, a single strand can be synthesized from RNA-dependent DNA polymerase, using mRNA as a template, but increasing this to a double strand is more common. Makes extensive use Northern blotting and other protocols, as well as research in molecular biology and molecular nutrition.
2
Bio Safety Level
Bio Safety Level (BSL-1, 2, 3, 4) is a rating accorded to laboratories and other facilities that handle bacteria, viruses and other microorganisms and pathogens. Level 1 is the lowest, and level 4 is the highest.
The higher the level, the higher is the risk factor of the microorganisms and pathogens that the laboratory or facility is equipped to handle.
Please refer to the following release for information on the transfer of Katakura Industries Co., Ltd. Research Institute of Biological Science.
Information contained in the press release is current as of the date of the announcement,
but may be subject to change without prior notice.