Sysmex Corporation (HQ: Kobe, Japan; President: Hisashi Ietsugu) is launching its new XN-Series of products on a global scale. Through its new XN-Series lineup, Sysmex aims to enhance its ability to propose solutions in response to various customer needs. By leveraging its unique advantages going forward, the Company aims to provide new value, thereby taking the undisputed leadership position in the global hematology market.
Testing demand has increased and become more diverse in recent years, as increasingly sophisticated healthcare is needed to treat aging populations in advanced countries and as emerging markets work to expand their healthcare infrastructures in line with their growing populations and economic development.
Since its establishment, Sysmex has focused on the hematology field, which involves the testing of blood samples to determine the number, types and sizes of white, red and other blood cells they contain, determining patient health through measurement and analysis. The Company has grown to become the global market leader in the hematology field.
The newly launched XN-Series provides a body fluid measurement mode and increases measurement accuracy for low platelet counts, associated with such diseases as thrombocytopenia, to enhance clinical value.
On the usability front, the series embraces the modular concept.*1 This series allows the combination of multiple analyzers, transportation system, smear preparation system and other instruments. This flexibility enables the proposal of tailored solutions to meet individual customer needs. We have also incorporated into our product portfolio the concept of Silent Design®,*2 a human-centered design product design concept that takes operator motion into account. This resulted in significant improvements in operability, such as through the simplification of operating panels. The compact design of the series has reduced the footprint of the top-of-the-line transportation system approximately 20%*3 compared with previous models.
In addition, the XN-Series features further enhancements in online service. Connection to the SNCS®*4 allows online monitoring of operating conditions by analyzing sensors mounted on the instrument's components. Through such preventive maintenance, we aim to pre-empt sudden malfunctions.
Using the combination of 25x concentrated reagents and the RU-20 reagent preparation unit greatly reduces the changing frequency of certain reagents. This is a particular boon for commercial labs and university hospitals that process high volumes of tests each day, by boosting operating efficiency and requiring less reagent storage space. Out of environmental consideration, we have also switched from polyethylene to paper packaging.
By leveraging our strengths to deliver additional value, we aim to secure our position as the undisputed global leader in hematology. As the frontrunner, we will continue to employ advanced technologies. Through these proactive efforts, combined with ongoing R&D initiatives, we aim to play a leading role in the next-generation hematology market and sustain our growth into the future.
New Product Overview
Name:
XN-Series multiparameter automated hematology analyzers
Target market:
All regions
Launch:
May 2011 (sales to commence by country, as approved)
Systems:
- XN-1000
- XN-2000
- XN-9000
Features
- Increased clinical value
- Modular concept
- Employs new "Silent Design®" concept
- Enhanced online service quality
- Uses environmentally friendly paper-packaged, concentrated reagents
Product models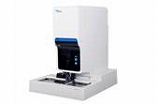 XN-1000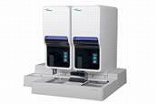 XN-2000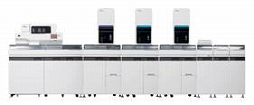 XN-9000
Notes:
*1
Individual modules can be combined to create a diverse variety of product configurations. The series also allows for flexibility in testing throughput, increasing or reducing capacity in line with customer needs.
*2
Silent Design® is the fusion of product design and technology, developed with the users and their workplace in mind. Simple, but with great attention to detail. The XN-Series is designed for a long product life, and with a consistent user interface in all models.
*3
Compared with our previous model and the XN-9000 (transportation system)
*4
An abbreviation for Sysmex Network Communication Systems, the SNCS® is an online support service that connects the Customer Support Center and customers' products via an internet connection to provide real-time external quality control and scientific information and to monitor instrument conditions.