Sysmex Corporation (HQ: Kobe, Japan; President: Hisashi Ietsugu) will begin providing a new health support service. Sales of this health guidance optimization service, named PROWELL Opti, will commence on December 1.
 Constituting a new SaaS*1 offering, this health support service will help companies provide health guidance. PROWELL Opti combines the analytical expertise Sysmex has developed through diagnostics with the knowhow it has cultivated through health support services provided via drugstores and the healthcare sections of other stores.
 Individual health awareness has risen in recent years, in line with the increasing prevalence of lifestyle diseases, as well as a growing means to combat them. This situation also has management risk implications: a rising percentage of flagged test results*2 during routine corporate health checkups leads to higher healthcare costs, and higher levels of illness-related absenteeism drives up personnel expenses.
To address these risks, companies have begun taking measures to help their employees counter lifestyle diseases, providing guidance on ways of improving their lifestyles. Some such efforts have begun bearing fruit, but a number of issues remain. For example, procedures for providing guidance on how to improve lifestyles are inconsistent, and the people providing such guidance have different skills and experience levels. Consequently, the level of guidance varies.
Through its development and upcoming sale of the PROWELL Opti SaaS service, Sysmex will help companies provide employees whose routine health checkup results indicate the need for lifestyle improvements with consistent guidance.
PROWELL Opti uses the results of routine health checkups and lifestyle examinations as the basis for automatically determining recommended guidance procedures and generating suggestions for effective lifestyle changes. Recommended changes are shown in priority order, and the service describes the associated risks of disease, as well as visuals depicting an individual's physical condition. This service helps increase the degree of improvement by boosting motivation and providing consistent guidance procedures. Furthermore, by recording the results of each individual's lifestyle improvement efforts on a daily basis, the service helps individuals make their actions habitual.
Upon initial launch, Sysmex will concentrate on applying this service toward the lifestyle disease of obesity. Thereafter, the Company plans to steadily augment the service, providing functionality to address hyperglycemia and high blood pressure.
Going forward, Sysmex will continue contributing to a healthy and prosperous society as it works toward its mission of "shaping the advancement of healthcare," in line with its corporate philosophy.
*1 A contraction of Software as a Service, SaaS refers to providing software services as needed, in the required amounts. Generally, such services are offered via the Internet.
*2 Indicates the percentage of employees who, when undergoing routine health checkups, are flagged in certain categories.
About the Service
Name:

PROWELL Opti Health Guidance Optimization Service (PROWELL Opti)
Target markets:
Japan
Launch:
December 1, 2010
Features:
1) Automatically generates individually tailored guidance procedures and lifestyle improvement suggestions based on the results of routine health checkups and lifestyle data, and delivers consistent results regardless of the guide's level of healthcare experience
2) Increase motivation to make changes by using photos and charts to visually explain individual lifestyle issues
Usage Procedure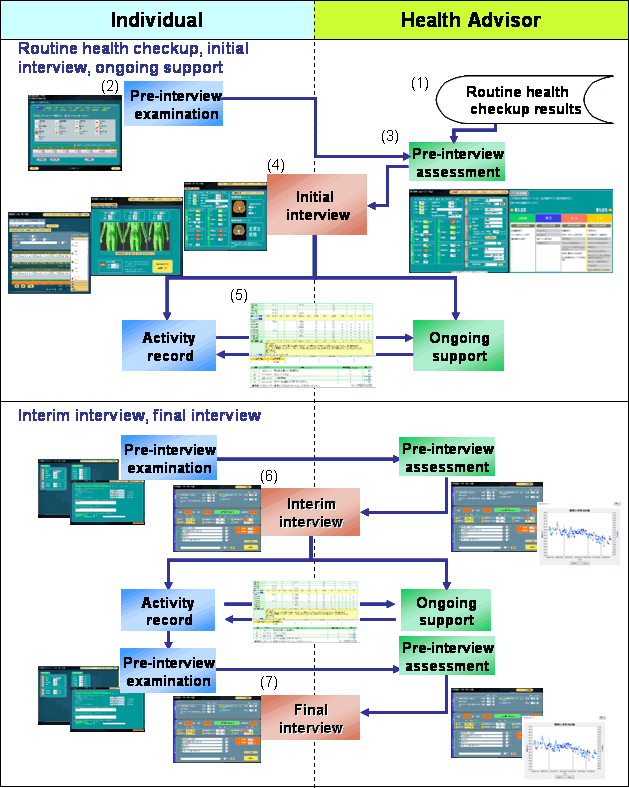 (1) Health advisor inputs results of routine health checkups.
(2) Individual undergoes lifestyle examination.
(3) Guidance procedures and lifestyle improvement suggestions generated automatically based on the
results of steps (1) and (2).
(4) During ther initial interview, the Advisor makes the individual aware of issues shown in the test
results, the reasons for these results, and the future health risks they entail. A course of improvement
is determined, based on automatically generated suggestions for improvement tailored to the individual.
(5) Individual records daily progress on course of improvement. Advisor provides additional guidance,
as conditions warrant.
(6) Advisor and individual conduct interim interview, sharing course implementation status and results.
(7) Final interview held, results confirmed.
Information contained in the press release is current as of the date of the announcement,
but may be subject to change without prior notice.