Sysmex Corporation (HQ: Kobe, Japan; President: Hisashi Ietsugu) has decided to build a new factory at its reagent production facility in China (Jinan Sysmex Medical Electronics Co., Ltd.), to meet rapid demand growth in the country.
Designed to ensure a stable reagent supply with the flexibility to meet future growth in the Chinese market, the new factory is scheduled to commence its operation in May 2012.
Sysmex established its first Chinese reagent production factory in Jinan in 1995 and the second factory in Wuxi in 2003 to provide a stable supply of reagents to the customers in the Chinese market.
Sales to the Chinese market, including instruments and reagents centered on Sysmex's mainstay hematology field, have now surpassed the ¥10.0 billion level.
China's recent economic development has spurred healthcare system reform and encouraged efforts to enhance the country's healthcare environment, causing demand for testing to expand. In order to ensure its ability to continue providing reagents to this growing market, Sysmex has decided to build a new reagent production factory to meet the pressing need of expanding its production system.
The new factory, which will be built within the existing factory site, will feature production lines capable of manufacturing approximately five times the current production volume. The factory will also include a space for administrative operations, increasing floor space at the site by around 60%. The new factory will realize a more pleasant working environment for employees by adding a wing containing employee welfare facilities and maximizing the use of natural lighting, which is said to have a refreshing effect.
From the standpoint of environmentally considerate factory operation and management, introduction of energy-efficient equipment, reuse of rainwater and wastewater and planting of abundant greenery will be promoted.
Going forward, to ensure a steady supply of products to customers throughout the world Sysmex plans to accelerate development of its production system to meet local market environment and growth.
[Overview]

Location:

Within the site of Jinan Sysmex Medical Electronics Co., Ltd.
Total investment (structure and facilities): ¥1.1 billion
Area to be occupied by new structures:
Factory wing (two floors), Floor space of 5,767 m2 (Approx. 1.6 times the present area*)
Employee welfare wing (1 floor), 553 m2
(Reference: The current site extends over about 28,000 m2)
* Once the new factory is operational, Sysmex plans to dismantle the existing factory and management wing.
Bird's-eye view of facility upon completion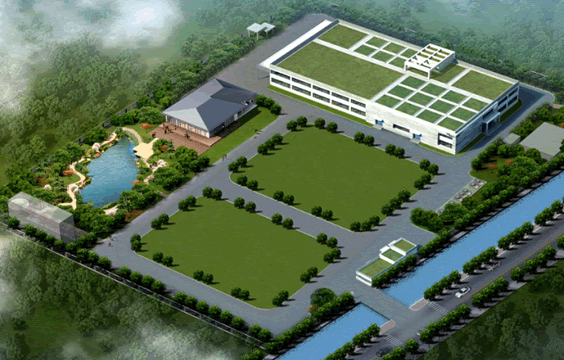 Information contained in the press release is current as of the date of the announcement,
but may be subject to change without prior notice.