Sysmex Corporation (HQ: Kobe, Japan; President: Hisashi Ietsugu) will begin providing automated hematology analyzers for animals on an OEM basis to IDEXX Laboratories, Inc. (HQ: United States). IDEXX is the leading provider of diagnostics for pets and other animals. The product will be sold via IDEXX's network.
Increasingly, many people treat their companion animals-the dogs, cats and other animals that live in their homes-with the same importance as other family members. These indoor pets are being fed improved foods and are given access to modern veterinary healthcare. As a result, they are living longer lives. Like humans, these longer lives create demand for more and continuing healthcare. Therefore, the animal healthcare market continues to show strong growth.

IDEXX is the leader in the field of pet diagnostics. The company supports healthcare for animals by providing animal hospitals throughout the world with a wide range of instruments, reagents and testing services in the fields of immunochemistry and clinical chemistry, among others.

Sysmex had developed automated hematology analyzers and reagents for animals based on human market instruments and began selling products to animal hospitals in Japan in 2001. IDEXX recognized Sysmex's high performance in the human hematology field, including the processing capacity, quality and data precision of its products. In late 2007, Sysmex and IDEXX began developing a world class automated hematology analyzer for the veterinary market.

The partners have now successfully completed development of the product. It will be manufactured and supplied by Sysmex and marketed by IDEXX as the "ProCyte Dx". In July 2010, IDEXX will begin selling ProCyte Dx throughout North America. In line with steady global market growth, IDEXX aims to sell more than 10,000 of these units over the next 15 years.

Now Sysmex will supply the ProCyte Dx to animal hospitals via IDEXX on an OEM basis. This will promote the global development of the IDEXX brand and deploy Sysmex's products more widely throughout the world.

In the future, the two companies will continue to cooperate, leveraging each company's expertise to contribute to the advancement of animal healthcare.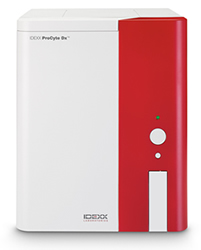 IDEXX ProCyte Dx Hematology Analyzer
Information contained in the press release is current as of the date of the announcement,
but may be subject to change without prior notice.