Press Releases


Apr. 21, 2014
Sysmex to Launch the HISCL® TARC Assay Kit for Atopic Dermatitis
- Allows for Automated Testing in Only 17 Minutes -
Sysmex Corporation (HQ: Kobe, Japan; Chairman and CEO: Hisashi Ietsugu) has developed the HISCL® TARC Assay Kit (HISCL TARC1) as an atopic dermatitis marker for use in its fully automated immunoassay analyzers, the HISCL-5000 and the HISCL-2000i. Sysmex will commence sales of the reagent kit, which was developed in cooperation with Shionogi & Co., Ltd., as outlined below.
This reagent allows for pre-treatment testing of atopic dermatitis to be performed quickly and efficiently through automation.
Atopic dermatitis is a type of hereditary eczema which can trigger abnormalities in the immune function. Stimuli resulting from lipoperoxide accumulation and fungi prompt an immune reaction, causing a condition in which skin is chronically itchy and red.
In Japan, some 370,000 people are affected by atopic dermatitis, and this number is said to be on the rise.

Typically, physicians determine the severity of atopic dermatitis based on the scope and degree of the rash and the symptoms developed by the patient. From an immunological perspective, a more objective approach is to conduct a test that measures TARC production volume. This provides physicians with an objective numeric indication of the severity of the disease, thus allowing for an appropriate course of treatment for the patient to be determined.

Because conventional testing requires time, however, in-hospital pre-treatment testing has typically been problematic. To address this issue, Sysmex and Shionogi have jointly developed a way to automate this testing in order to provide test results more swiftly.

Use of the newly-introduced HISCL TARC Assay Kit allows tests to be performed in approximately 17 minutes. As a result, pre-treatment testing for atopic dermatitis can be performed within the hospital, leading to shorter waiting times and reducing the burden on patients.

Sysmex and Shionogi are also moving forward with the development of automated testing for the HISCL® ANP Assay Kit (HISCL ANP2), a widely used reagent to help assess the severity of cardiac insufficiency. The reagent is scheduled to be released in May.

By augmenting its lineup of testing parameters specific to its HISCL system, Sysmex aims to reduce the burden on patients and enhance the quality of testing in the immunological testing field.


[New Product: HISCL TARC]
Features
1.

Helps to evaluate the severity of atopic dermatitis through simple blood testing.

2.
Whereas conventional testing to measure TARC production volume requires 3 hours and 15 minutes, the HISCL Assay Kit enables the same test to be performed in 17 minutes.
3.
Shorter testing time allows for pre-treatment testing to be performed within the hospital.
Overview

Name:

HISCL TARC Assay Kit

Target use:

For measuring the amount of human TARC in serum (helping to determine the severity of atopic dermatitis)

Measurement method:
Chemiluminescent enzyme immunoassay (CLEIA) method
Measurement response time:
17 minutes
Launch:
April 2014
Target market:
Japan
Target facilities:
Medium- to large-scale facilities with allergy/dermatology departments
NHI points:
194
Manufacturer and seller:
Shionogi & Co., Ltd.
Seller:
Sysmex Corporation


[New Product: HISCL ANP]
Features
1.

Helps to evaluate the severity of cardiac insufficiency through simple blood testing
Overview

Name:

HISCL ANP Assay Kit

Target use:

For measuring the amount of human atrial natriuretic peptide (ANP) in the plasma

Measurement method:
Chemiluminescent enzyme immunoassay (CLEIA) method
Measurement response time:
17 minutes
Launch:
May 2014
Target market:
Japan
Target facilities:
Medium- to large-scale facilities with departments for cardiovascular internal medicine
NHI points:
233
Manufacturer and seller:
Shionogi & Co., Ltd.
Seller:
Sysmex Corporation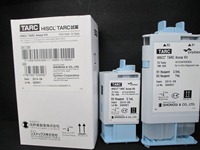 HISCL TARC Assay Kit,
an atopic dermatitis marker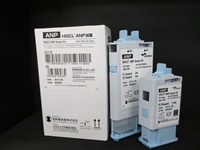 HISCL ANP Assay Kit, a marker to assist in
evaluating the severity of cardiac insufficiency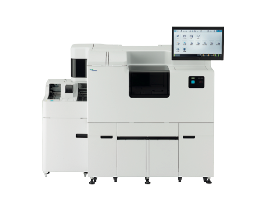 HISCL-5000 Fully Automated Immunoassay Analyzer
| | |
| --- | --- |
| 1 | Thymus and activation-regulated chemokine (TARC), a protein composed of 71 amino acids, is a chemokine that transports specific white blood cells. With atopic dermatitis, various stimuli prompt cutaneous lesions (epidermal keratinocytes), thereby inducing or increasing TARC production. The TARC attracts Th2 cells-a type of lymphocyte-to a lesion's location and prompts an allergic reaction that contributes to and is thought to exacerbate the clinical condition of atopic dermatitis. |
| 2 | Atrial natriuretic peptide (ANP) is a hormone secreted into the bloodstream that is primarily synthesized and stored in the cardiac atrium. As atrial pressure stimulates extension of the atrial muscle, secretion volume grows as the atrial burden rises. Of the various neurohumoral factors that increase in line with cardiac insufficiency, this hormone best reflects the severity of cardiac insufficiency. Accordingly, testing for this marker can help in evaluating the degree of a patient's cardiac insufficiency and recommending an appropriate course of treatment. |