Press Releases


Sep. 08, 2016
Sysmex's Automated Blood Coagulation Analyzer Certified Under the 5th Heritage Program of Legacy Analytical Instruments/Scientific Instruments
Sysmex Corporation (HQ: Kobe, Japan; Chairman and CEO: Hisashi Ietsugu) has received certification from the Japan Analytical Instruments Manufacturers' Association (JAIMA) and the Japan Scientific Instruments Association (JSIA) for its CA-100 automated blood coagulation analyzer under the 5th Heritage Program of Legacy Analytical Instruments/Scientific Instruments.

JAIMA and JSIA introduced a certification program in 2012 to recognize the heritage of analytical instruments and scientific instruments that communicate, as a cultural heritage for future generations, the analytical technologies/instruments and scientific instruments that have contributed in an important way to the lives, economy, education and culture of the Japanese populace. To date, 62 items have earned this recognition.

Hemostasis testing, which examines the ability of the blood to coagulate or not to coagulate, plays an important role in diagnosing diseases such as hemophilia and liver cirrhosis, and can help determine hemorrhagic tendency prior to surgery. The early 1980s saw progress in the automation of testing, but demand has grown for further increases in measurement sensitivity and precision.
 The CA-100, which Sysmex developed and launched in 1984, allowed measurement status and specimen abnormalities to be determined easily by employing a function for graphically displaying the coagulation reaction process, as well as achieving high levels of measurement sensitivity. The CA-100 was also the world's first blood coagulation analyzer equipped with a quality control function, which led to higher levels of measurement precision and provided stable test results.
 Sysmex took the lead over its competitors in offering such functionality, which has now been widely adopted by other companies' blood coagulation analyzers and remains an industry standard.

 Sysmex received its certificate for the CA-100 under the 5th Heritage Program of Legacy Analytical Instruments/Scientific Instruments at JASIS 2016 (formerly called the Analytical & Scientific Instruments Show). This is the second time we have received such a certification, following the certification of our CC-1001 automated hematology analyzer, the first such instrument to be developed in Japan, at the 3rd Heritage Program of Legacy Analytical Instruments/Scientific Instruments.

 Going forward, through research and development to further enhance testing quality and efficiency, Sysmex aims to meet the rise in testing demand and the increasingly diverse needs in regions around the world, thereby contributing to the advancement of healthcare.
CA-100 automated blood coagulation analyzer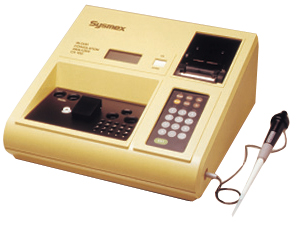 Ceremony for receiving certificates under the 5th Heritage Program of Legacy Analytical Instruments/Scientific Instruments