Press Releases


Aug. 27, 2015
Sysmex Receives in Vitro Diagnostic Approval for Manufacturing and Sales of Three Platelet Aggregation Agonist Reagent Kits
- Pursuing Efficiency and Standardization by Automating Platelet Aggregation Tests -
Sysmex Corporation (HQ: Kobe, Japan; Chairman and CEO: Hisashi Ietsugu) announced today the in vitro diagnostic approval for manufacturing and sales of three platelet aggregation agonist reagent kits for use in the hemostasis field with AUTOMATED BLOOD COAGULATION ANALYZER CS-5100/2500/2400/2100i/2000i.
This reagent kit allows automation of platelet aggregation testing with increased efficiency and standardization.
The human body prevents blood loss through coagulation. Meanwhile, the body maintains a fine balance between coagulation to prevent blood from clotting too much and fibrinolysis which dissolves clots. Upset of this balance can result in thrombotic diseases, such as myocardial and cerebral infarction. In 2012, the world's leading cause of death* was ischemic heart disease, with cerebral embolism the second. A thrombus is at the root of both diseases and the situation calls for early diagnosis and treatment as well as prevention of recurrence.

Platelet aggregation tests permit the study of the platelets that play a central role in hemostasis. This testing is indicated for use in the diagnosis of thrombasthenia and other congenital disorders, and monitoring of antiplatelet therapy used as a treatment for arterial thrombotic diseases. Although platelet aggregation testing can be performed using numerous manual testing procedures, various measurement methods exist and so testing has not been standardized.

The three platelet aggregation agonist kit reagents for which we have recently received in vitro diagnostic manufacturing and sales approval were developed by HYPHEN BioMed, SAS, of France, a Sysmex Group company. This reagent kit can be used with AUTOMATED BLOOD COAGULATION ANALYZER CS-5100/2500/2400/2100i/2000i, to automate some platelet aggregation testing processes.

In addition to reducing the number of processes required, platelet aggregation testing using AUTOMATED BLOOD COAGULATION ANALYZER CS-5100/2500/2400/2100i/2000i, promotes standardization in testing.

Sysmex aims to continue working to reduce the burden of testing on patients and help boost the quality of testing, while supporting its customers.

New Product Overview
Name:
Revohem ADP, Revohem Collagen, Revohem Epinephrine
Target use:
Measurement of platelet aggregation
Target market:
All regions
Date of approval for manufacture and sale:
Japan: May 18, 2015 (Revohem ADP, Revohem Collagen)
Japan: August 14, 2015 (Revohem Epinephrine)
Launch:
Japan: July 7, 2015 (Revohem ADP, Revohem Collagen)
Japan: Scheduled for Early October, 2015 (Revohem Epinephrine)
(Outside Japan: to be launched successively in individual countries after receiving regulatory approval)
NHI points:
50 (Japan)
Related products:
Revohem Arachidonic Acid, Revohem Ristocetin (research reagents)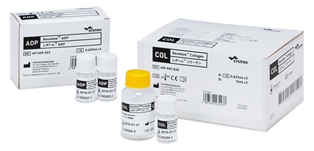 Hemostasis reagents
(Revohem ADP, Revohem Collagen)
AUTOMATED BLOOD
COAGULATION ANALYZER
CS-5100
Related product (Research Reagents)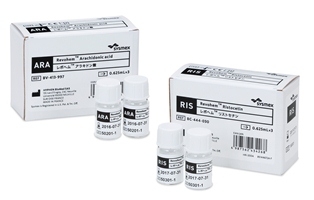 Research reagents
(Revohem Arachidonic acid, Revohem Ristocetin)
*Source: The top 10 causes of death, World Health Organization