Press Releases


Dec. 25, 2014
Sysmex Launches the New Automated Hematology Analyzer XN-L series - a Compact Model in the XN Family
- Meets Laboratory Needs in Both Emerging and Advanced Markets -
Sysmex Corporation (HQ: Kobe, Japan; Chairman and CEO: Hisashi Ietsugu) announced today the launch of the XN-L series automated hematology analyzer.
By augmenting the Company's lineup with the compact XN-L series, Sysmex aims to better meet the diverse needs of customers centered in emerging markets. The XN-L delivers performance similar to or the same as the XN-Series1, Sysmex's flagship model.
In recent years, rapid rates of economic growth in emerging markets have been prompting the development of healthcare infrastructures. This factor, plus an increasing awareness of health and healthcare, are spurring demand for medical care and testing. At the same time, healthcare needs in advanced countries are growing more diverse, owing to efforts to curtail costs and respond to aging populations, as well as to making inroads in preventive medicine and personalized medicine.

Since the time of its establishment, Sysmex has concentrated on its mainstay field of hematology, which involves the analysis of red blood cells, white blood cells, platelets and other blood components. Through these efforts, the Company has acquired the leading share of the global hematology market.

The XN-Series, which launched in 2011, helps to enhance clinical value by providing a low-WBC mode2 and body fluid mode3, as well as providing reticulocyte hemoglobin equivalent4.

This new addition to the XN-Series carries forth the functionality and operability that have earned the XN-Series a strong reputation throughout the world. This model features increased compactness by internalizing the pneumatic power source and miniaturizing detectors. The result provides one of the most compact instruments in its class. In addition to five-part white blood cell differentiation, the XN-L also conducts automated reticulocyte analysis using the fluorescent flow cytometry method.

As well as being compact, the XN-L series offers high levels of performance and operability, which customers have come to expect from Sysmex. The model is designed to meet a diverse range of needs. Aimed primarily for use in small and medium-sized healthcare facilities, the XN-L series is also suited for emergency laboratories at large-scale institutions that have already adopted the XN-Series.

The new series also is compatible with the Sysmex Network Communication Systems (SNCS®5), which allows online monitoring of the instrument's operating conditions. This function enables real-time external quality control and web-based information delivery, helping to pre-empt sudden malfunctions.

Additionally, this new product can help meet the demand in emerging markets for flagging blood cell shape changes that occurs in cases of malaria, one of the world's most deadly infectious diseases.

Going forward, Sysmex aims to meet increasingly sophisticated needs in emerging markets, including China and other parts of Asia, that are slated for further growth by providing high-value-added testing.
New Product Overview

Name:

Automated Hematology Analyzer XN-L series

Models:

・XN-5506
・XN-4506
・XN-3506

Target markets:
All regions
Launch:
January 2015 (To be launched successively in individual countries after receiving regulatory approval)
Processing capacity:
Up to 70 tests/hour (with option)
Features

Reagent management functions:

Uses RFID tags to support appropriate reagent
management
Cartridge-type staining packages facilitate reagent cassette placement
Remaining reagent display screen allows visual monitoring


SNCS® compatible
Employs the "Silent Design®" concept, which provides a simplified system of operation and interface based on careful study of laboratory processes, and the relationship between the operator and the instrument.
Product Photos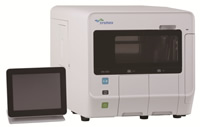 XN-550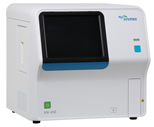 XN-450

XN-350
Footnotes
1 XN-Series:

Automated Hematology Analyzers launched in 2011
Refer to the press release dated May 10, 2011:
"Sysmex Launches the XN-Series of Flagship Models in the Hematology Field
- Securing Our Position as the Undisputed Global Leader in Hematology -"
http://www.sysmex.co.jp/en/corporate/news/2011/110510b.html

2 Low-WBC mode:
Using this mode allows the number of neutrophils in samples with low white blood cell counts to be reported, something that in the past was problematic for automated hematology analyzers, allowing for chemotherapy monitoring and engraftment monitoring following transplants. Using this mode helps reduce the number of working hours required for visual classification and allows for the delivery of swift and accurate test results.
3 Body fluid mode:
Analyzes samples of various types, such as cerebrospinal fluid, pleural fluid, ascites fluid and synovial fluid
4 Reticulocyte hemoglobin equivalent:
A standard for effectively determining changes in the amount of iron in the blood when diagnosing iron deficiency in cases of renal anemia and for chronic kidney disease, especially in dialysis patients.
5 SNCS®:
This online support service connects the Sysmex's server and customers' products via an Internet connection to enable real-time external quality control, to monitor instrument conditions, and to get scientific information and. The content of support services varies by region. A separate agreement is required to use this service.
6 XN-550:
Sampler type, which includes a sampler that allows 20 samples to be measured consecutively
XN-450:
Cap-piercing type, which allows measurement while the caps of blood collection tubes remain affixed
XN-350:
Open type, in which blood collection tube caps are opened for measurement