Press Releases


Sep. 24, 2014
Sysmex Launches the Automated Immunoassay System HISCL®-800, a Compact Analyzer for Immunochemistry Testing
- Space-saving and High-performance in Response to Increasingly Diverse Needs -
Sysmex Corporation (HQ: Kobe, Japan; Chairman and CEO: Hisashi Ietsugu) has launched the automated immunoassay system HISCL-800, a compact analyzer for immunochemistry testing. In addition to retaining the same high levels of functionality and performance as other products in the HISCL-Series (the HISCL-5000 and the HISCL-2000i ), the HISCL-800 is compact. By augmenting the instrument lineup in this way, Sysmex is meeting increasingly diverse customer needs.
As a way of measuring proteins and other substances in the blood, immunochemistry testing has a wide range of applications, from the diagnosis of infectious diseases, cancers and heart diseases to their courses of treatment. As such, immunochemistry testing plays an essential role in the early detection of diseases and the determination of therapeutic effects.
In 2007, Sysmex introduced the automated immunochemistry system HISCL-2000i, which employs chemiluminescence enzyme immunoassay (CLEIA) methodology. Then in 2012 the Company introduced the HISCL-5000, automated immunoassay system offering increases in the number of simultaneously measured parameters and processing capacity as well as enhanced usability.
Furthermore, Sysmex has augmented its reagent lineup with products for testing for proprietary parameters, including a reagent for a liver fibrosis marker (HISCL M2BPGi reagent) and a reagent for an atopic dermatitis marker (HISCL TARC reagent). In this manner, Sysmex has promoted the introduction of the HISCL-Series, centering on the Japanese market.
The automated immunoassay system HISCL-800 carries forward such HISCL-Series characteristics as minute samples, high degree of sensitivity, fast measurement requiring only 17 minutes and high operability. At the same time, the HISCL-800 is space-saving, with a footprint approximately 60% narrower than the HISCL-5000. Although compact, the model is capable of measuring up to 24 parameters simultaneously.
By offering high levels of functionality and performance, as well as compactness, the HISCL-800 is well suited not only to regular testing but also to a variety of needs at healthcare institutions, including urgent testing and testing for specific parameters.
We intend to meet the demand in emerging markets for immunochemistry testing, including China and other parts of Asia that are slated for further growth. Sysmex will meet increasingly sophisticated needs by providing a high-value-added testing environment comprising the compact and highly functional HISCL-800 and unique reagents that deliver high clinical value.
Going forward, Sysmex aims to reduce the burden on patients and enhance the quality of testing, as well as instilling its customers with confidence.
New Product Overview


Name:

Automated immunoassay system HISCL-800
HISCL is an acronym combining the first letters of "high sensitivity" and "CLEIA," which refers to chemiluminescence enzyme immunoassay.
Launch:
September 2014
Target market:
Japan, China and the Asia Pacific (AP) region (Sales are scheduled to commence in or after fiscal 2015 in China and some parts of the AP region.)
Processing capacity:
100 tests per hour



Testing Parameters

HBs antigen, HBs antibody, HBc antibody, HBe antigen, HBe antibody, HCV antibody, HCV-Gr, TP antibody, HTLV-I antibody, troponin T, HIV antigen-antibody, HIV-antibody, AFP, CEA, PSA, CA19-9, CA125, ProGRP, TAT, PIC, TM, tPAI-C, ferritin, insulin, TSH, FT3, FT4, NT-proBNP, SP-A, ANP, TARC, M2BPGi (As of September 2014)



Features

・ Reaction time:
Results are delivered in 17 minutes from the time a sample is taken
・ Parameters simultaneously measured:
Up to 24
・ Transport connection:
Optional
・ Reagent ID management:
Uses RFID
・ SNCS functionality:
Standard
・ Reagent cooling functionality:
24-hour reagent cooling allows testing to be performed at any time
・ Design concept:
Employs Silent Design®
Product Photo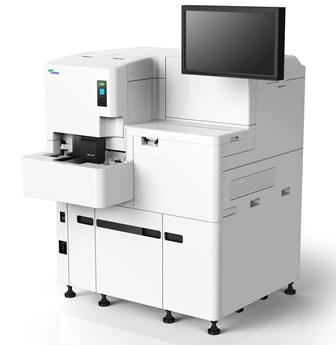 Automated immunoassay system HISCL-800