Press Releases


Oct. 06, 2010
Sysmex aims to expand its market share by the World's First Fully Automated Integrated Urine Analyzer jointly developed with ARKRAY
 Sysmex Corporation (HQ: Kobe, Japan; President: Hisashi Ietsugu) and ARKRAY, Inc. (HQ: Kyoto, Japan; President: Shigeru Doi) have signed agreements on joint development, production and sales of urinalysis products utilizing the strength of the both parties in those fields aiming to expand their market share in the urinalysis market.
Sysmex and ARKRAY will jointly develop and distribute the world's first fully automated integrated urine analyzer equipped with the technology for urine sediment analysis from Sysmex as well as that for urine chemistry from ARKRAY based on the agreements between the companies.
Urinalysis, like blood testing, is used for general screening of the health condition of the people. It is differentiated roughly into two kinds of test methods, urine chemistry to examine whether or not chemicals like proteins, sugar and blood exist, and urine sediment to examine the particles like blood cells and cells in urine samples. Urine chemistry is done using dip sticks in general health checks, and further examination is done by urine sediment for detailed analysis.
 Sysmex has developed and has been selling a fully automated urine sediment analyzer with the flow cytometry*1 technology as its detection method. Sysmex obtained the biggest market share in the automated urine sediment analysis market with its urine sediment analyzer. ARKRAY, on the other hand, has been in the market of urine chemistry for about 40 years, and is considered one of the leading companies in the market.
Sysmex and ARKRAY have previously collaborated in development of transportation system which connects the analyzers from both companies to provide comprehensive urinalysis solutions to customers. The new business collaboration agreements are the next steps of the previous collaboration, which provide a fully automated integrated urine analyzer enabling both urine chemistry and sediment analyses on a single platform.
To date, the urine chemistry and sediment analyses have been completed on separate analysis platforms, therefore a relatively wide installation space is required to install the transportation system which connect both types of analyzers to offer full automation. The new fully automated integrated urine analyzer realized by the collaboration of Sysmex and ARKRAY has dramatically reduced the footprint when compared to the existing transportation system and the operational performance is improved as well. The new analyzer provides fully automated analysis of 100 to 200 samples per hour*2 and contributes to improve efficiency of laboratory operations as well as promotes the standardization urine testing.
Sysmex and ARKRAY aim to expand their market share by jointly developing products by combining the strengths of both companies and marketing products under their own brands through their global network.
*1 Method of optically analyzing minute particles dispersed in a flow through the use of laser light
*2 Differs depending on the percentage of tests involving simultaneous urine sediment analysis
[About the Product]
Name:

Fully Automated Integrated Urine Analyzer UX-2000
Target markets:
Worldwide
Launch:
Start of sales in Japan in December 2010, followed by steady rollout to other regions
Features:
1) Throughput of 100-200 samples per hour (varies depending on percentage of samples involving simultaneous urine sediment analysis)
2) Achieves urine chemistry and urine sediment analyses in a single instrument
3) Cross-check function (cross-check of related parameters from urine chemistry and urine sediment analyses)
4) Reflex testing function (automatically decides whether to order urine sediment analysis based on urine chemistry results)
[Product Photo]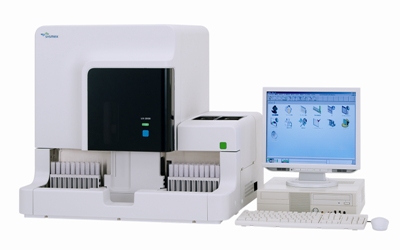 [About ARKRAY, Inc.]

Name

ARKRAY, Inc.
President & CEO
Shigeru Doi
Location
KYOTO MIYUKI Bldg. 10F, 689 Takanna-cho, Nakagyo-ku,


Kyoto 604-8153, Japan
Incorporated
September 26, 1963
Businesses
Research, development, manufacture, sale and export of medical analyzers and in vitro diagnostic medical products. Sale of health products. Development and sale of functional materials.
URL
http://www.arkray.co.jp/english